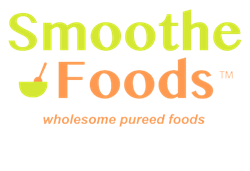 We want to help Speech Language Pathologist's help their patients with food they will want to eat.
Huntington, NY (PRWEB) November 12, 2013
According to ASHA, attendees raved about the conference on dysphagia when they aired it in May; with a satisfaction rating of 4.69 out of 5. The overwhelming response inspired them to repeat it this year.
ASHA's website states the online conference is for SLPs who want to be a client's partner and problem solve important issues facing this population, including end of life care.
This special on line conference will give practical, apply-today skills to manage swallowing disorders in older adults and understand the changing norms in swallowing in today's patient.
Smoothe Foods is sponsoring this conference to help create awareness of the new options of great tasting food for this population. "ASHA is pleased to have Smoothe Foods as a sponsor of its 2013 online conference on Dysphagia in Older Adults," said Justin Goldstein, Sponsorship Manager at ASHA. "We appreciate the company's generous support. SLP's are an integral part of the care of an individual with swallowing issues" states Karen Betz, founder of Smoothe Foods. "We want to help SLP's help their patients with food they will want to eat."
According to the "Alliance to Advance Patient Nutrition", 1 in 3 hospitalized patients is malnourished upon admission and up to 50% of patients with digestive issues are admitted to the hospital malnourished. Sadly, 60,000 people with dysphagia die each year from malnutrition.
Smoothe Foods offers a convenient & delicious option in soft foods to help stop malnutrition amongst the tens of millions of people who cannot eat solid foods. The soft pureed diet a patient receives during their hospital or rehab stay often ends when they return home.
Offering them another convenient option in the hospital and when they return home instead of baby food and supplemental shakes will encourage them to eat more. Individuals who need soft foods have limited choices when it comes to good tasty food that is easy to prepare.
"By offering our nutritious and tasty pureed meals at home or in a facility, we can encourage patients to eat, and reduce the chance of readmission to the hospital," says Karen Betz.
"We offer our convenient tasty meals at a critical time when 80 million Baby Boomers could potentially flood the homecare and hospice market. By delivering our meals to a facility or directly to the home, we make it easier for healthcare industry to supply convenient nutrition when most needed."
"We had to create a new category of food options since traditionally, people who need soft pureed foods have been ignored", states Betz. "We are committed to reduce malnutrition through education and great meals. We need to work together with SLP's, hospitals, nursing homes, HHC agencies and other institutions. Every person who comes in contact with a patient plays an important role in their nutritional care.
About Smoothe Foods
Smoothe Foods takes a Holistic Approach to Soft Foods. They offer a variety of delicious frozen gourmet pureed foods. All foods are made in small batches with select ingredients. Soft foods are often the only source of nutrition that can be comfortably and easily consumed, yet so often overlooked. Just because a person is ill doesn't mean they don't want delicious food. They need an incentive to eat. We can change this together.
Smoothe Foods sells to facilities and home health care agencies who want a high quality, easy meal to serve their patients. And when a patient returns home, we offer them our meals to continue their soft food diet care. What is more inviting than a meal made especially for them?
Smoothe Foods specializes in soft foods and offers Kosher meals too.