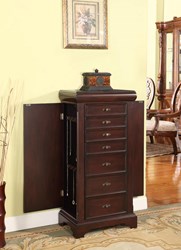 Very Popular Gift Item!
Richmond, VA (PRWEB) November 05, 2013
"Why wait till the last minute to find a Christmas gift for your wife? You can take the stress out of holiday shopping by choosing a beautiful jewelry box right now," says Noelle Price.
Price is a managing partner for Chasing Treasure, an online firm specializing in retail sales of jewelry boxes and jewelry storage boxes. Based in Richmond, Chasing Treasure offers several hundred jewelry boxes ranging from small travel jewelry organizers to floor standing jewelry armoires.
"Jewelry boxes make great gifts because women value beautiful storage arrangements for their fine jewelry," Price said. She pointed to Chasing Treasure's new products and said that "the one you choose depends on the quantity and style of the jewelry owned by your loved one."
If your gift recipient has a large collection of jewelry, Price suggests that you look at floor- standing armoires. As an example she pointed to one of the seven drawer full-size standing armoires on the Chasing Treasure web site. "Armoires like this are especially important if your wife has necklaces because they feature swing out necklace compartments with hooks that hold up to ten necklaces vertically without tangling," she added.
For smaller collections Price recommends jewelry boxes that can fit on top of a dresser drawer. Typically these units have three or more drawers with several compartments and are finished in fine wood or in leather. "A nice touch with these boxes is that usually you can personalize them with the engraved names and initials of your gift recipient," Price said.
Chasing Treasure also offers an array of travel boxes that range in size from leather travel wallets to full size overnight travel cases. "The travel cases are a perennial favorite with women," said Price.
"As it is still early in the shopping season it is possible to make a careful selection of a jewelry box that matches the jewelry collection of your wife and complements the décor of your home. If you get the right one, it will not only be valued this Christmas season, but will be passed down for generations to come as an heirloom," Price concluded.