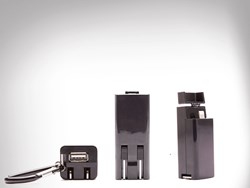 No more tangled cords!
Santa Barbara, CA (PRWEB) October 29, 2013
The JuiceBuddy, an ingenious cordless charger for Android, and all other micro USB phones, was just launched on Kickstarter.
The key-chain sized charger plugs into any wall socket. While charging, the phone is secured by an integrated micro USB connecter. No cords are needed. The JuiceBuddy also has a standard USB 2.0 port for charging other devices.
Arriba Design, a small California based design company, came up with the patent-pending JuiceBuddy. "We have been brainstorming for some time on how to produce a small cordless charger," said Chris Hansen, Arriba Design's marketing manager. "And we're getting a great response to the design. The JuiceBuddy is perfect for traveling. You can leave your cords at home, all you need is an outlet."
Included with the JuiceBuddy, is a stainless steel carabiner for clipping it onto a key chain or backpack.
The cost of the JuiceBuddy on Kickstarter is $20, a 10 dollar savings off the regular price.