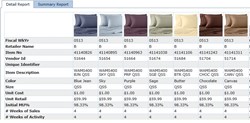 This once again proves that if there is a UPC involved with a product, we can add value to its retail analysis. -Jim Lewis, Founder and CEO of Enhanced Retail Solutions
New York, NY (PRWEB) October 29, 2013
LA Rocks, a leader in the jewelry industry with its product offered in over 6,000 locations, has engaged Enhanced Retail Solutions (ERS) for their Retail Analytic, cloud based offering, weeklyanalyst.net. ERS is a top provider of Retail Analytic and Demand Planning solutions to suppliers to the retail industry and their retail partners. Clients use the software to analyze product sales and trends as well as to better forecast their inventory needs.
With weeklyanalyst.net, manufacturers can more easily become involved in the management of their own lines at the retail level and track their products through their entire retail lives. In a few simple steps, this software provides in-depth reporting on an individual sku's inventory and sales - all at door level and generated in a few clicks.
"We are pleased to add this vertical," said Jim Lewis, Founder and CEO of Enhanced Retail Solutions. "This once again proves that if there is a UPC involved with a product, we can add value to its retail analysis."
About Enhanced Retail Solutions LLC
Enhanced Retail Solutions is a New York based software and consulting firm specializing in retail analysis and Demand Planning for the manufacturer and their retail partners. ERS' state of the art software tools and consulting deliver critical data quickly, easily and cost effectively, adding over one hundred million dollars to their clients' bottom line. ERS' broad customer base includes industry leaders in the Electronics, Consumer Products, Apparel, Footwear, Home Textile, Toy, Home Décor, Home Improvement, Housewares, Food and now Jewelry Industries. For more information, visit http://www.EnhancedRetailSolutions.com.