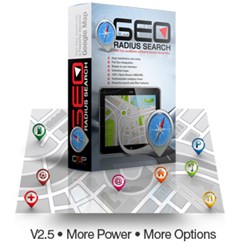 GEO Radius Search is the most powerful Radius Search system for Joomla Applications built with ZOO
Boston MA, (PRWEB) October 28, 2013
CNP Integrations announced the release of GEO Radius Search for ZOO and Joomla! CMS and a new portal on http://www.georadiussearch.com.
Today marks a new chapter in CNP Integrations commercial extension development services with their release of GEO Radius Search 2.5. CNP integrations (http://www.cnpintegrations.com) team has been supporting and developing Joomla extensions for many years but made the leap to officially launching a commercial extension division through a unique business deal with the German Joomla Service company Digitoligie.de. In July 2013 CNP acquired Digitologie.de's Joomla commercial extension collection which included ZOO Radius Search and several other extensions along with the JoomlaJob.de portal.
Many of the other extension were put on the http://www.cnpintegrations.com/extensions page as free downloads to the Joomla user community. However, their flagship technology, ZOO Radius is a successful Joomla Extension that empowered users of the popular ZOO CCK extensions to add unique GEO mapping capabilities along with advanced search and filtering. This was re-branded as GEO Radius Search, Launched on a new web portal http://www.georadiussearch.com and the core code was rewritten to accommodate stability and ambitious future plans.
"We welcomed this opportunity because we had been searching for a way to take our Joomla support and development business in a new direction and saw tremendous value in the use of GEO Radius Search features for our client sites. Jump starting this project and collaborating with the Digitologie team on this latest release created a win win for everyone." Says Christopher Nielsen, CEO of CNP Integrations.
When CNP Integrations came on board they reorganized the direction of the project and consolidated many new features from client requests and worked in collaboration the German company for a clean hand off of a superior release. Collectively they have changed the name, reworked the brand identity and redesigned the entire code base to make room for future development.
The result is a significant new release of GEO Radius Search 2.5 for ZOO (Formerly ZOO Radius Search found on joomlajob.de) and a new product portal on a new domain; http://www.georadiussearch.com
The GEO Radius Search 2.5 release has many new features but the most noticeable are the ability to select multiple categories, paginate results in multi-column views and changes to the GOE module architecture. There are three distinct module configurations combined with a unique publish/subscribe capability. This allows extreme flexibility for configuration options within a Joomla template. For a full features list visit the features area of their new web portal http://georadiussearch.com/geo-radius-search/tour. The GEO Radius Search 2.5 for ZOO extension was optimized for supporting responsive websites so that users can navigate GEO map content on mobile devices.
"As we passed this on to CNP Integrations we wanted to make sure we gave them a superior feature set with clean code that could be managed better in a team collaboration repository [github]. We were confident they would add the marketing savvy and ongoing support required to drive even greater success. We are proud of the collaborative effort to take this extension, that we put our heart and soul into making just right, on to the next level of success" Says Stefan Brettschneider Product visionary and founder of Digitologie.de.
Folks interested in learning more are encouraged to visit: http://georadiussearch.com/geo-radius-search
CNP Integrations has been regarded as one of the premier Joomla technical and development support firms in the industry. Armed with superior Joomla CMS experience, enthusiastic "Problem Solving" talent and a great reputation in the web portal development business community, CNP Integrations has propelled to become a leader in the industry.
CNP Integrations has built a world class technical support and consulting practice around delivering enterprise level Joomla CMS support for small to midsized businesses (SMB's), Governments agencies and non-profit organizations using the Joomla CMS. The CNP Integrations team publishes regular news, perspective and educational information on their blog; http://www.cnpintegrations.com/blog
CNP Integrations has an engaged global team of technical and configuration experts and employs highly skilled programmers and project managers with the focus of providing the most responsive web application support services for the Joomla CMS and other compatible technologies. CNP Integrations is a business division of Creative Networks Protocol Inc., a Massachusetts based corporation. CNP Integrations offers premium technical support and hosting with a value building methodology and a proven process of project management success. CNP Integrations primarily provides services across the United States but has serviced customers globally in 7 countries on 3 continents.