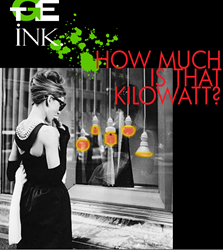 Energy procuremen is the 'low hanging fruit'. - Tana Kantor, publisher of TGE
Princeton, NJ (PRWEB) October 30, 2013
The Green Economy's newest TGEink magazine: "How Much is that Kilowatt?" explores the complicated world of energy procurement; how to take advantage of potential savings by knowing whom to ask for help.
The result is great opportunities for senior executives and board rooms to take control of their energy future. In many ways, it is much like the 1990s when companies were struggling with integrating computers. At a time when few companies had 'IT departments', the task was to understand how new systems could expand opportunities, where to spend money now, and how to plan for integrating large-scale changes in the future. For manufacturers, service providers and retailers alike, the complexity — along with the size of the investment and the potential for business disruption — has left many waiting to see what their competitors are doing before taking hasty steps.
Today, what many of those competitors are doing is outsourcing energy management. "Energy procurement," says Tana Kantor, publisher of TGE, "is the 'low hanging fruit.'" The more important part of the journey is learning about how a building, facility or enterprise uses energy. Armed with that information, important decisions about business practices concerning the efficiency of new equipment, practices or installations can be made before it is too late, resulting in massive savings.
And energy is just the start. Businesses can expect greater challenges as cities and states work to recoup the expensive process of managing all utilities, including water, transportation and energy. To learn more, check out October's issue.
About The Green Economy:
The Green Economy is an online magazine and website, providing reliable, fact based, in-depth stories from trusted industry leaders on energy, technology, policy, design and finance.