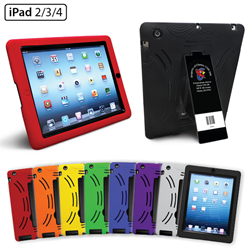 The iPad Slim Tough Case G3 is designed with schools' needs in mind. It offers all the features that technology directors ask for, and fits in the Bretford and other charging carts.
Chicago, IL (PRWEB) October 28, 2013
iGear's iPad Slim Tough Case G3 has been voted a favorite for schools. It was recently featured on CBS Atlanta's Back to School Gadgets, watch the video here: http://youtu.be/4FnSP7eOifA. It's the only iPad case on the market that offers all of the following features:

Customizable with your school's artwork and tracking barcode
Rugged multi-layer construction featuring drop protection of up to 20 feet
Built-in kickstand works in both orientations and also functions as a handle
Built-in scratch resistant screen protector
Fits in the Bretford PowerSync and all other charging carts on the market
In addition, schools that have deployed iGear's Slim Tough Cases are praising the company's product as well as its excellent customer service. The company published a select few of recent comments:
"We were very impressed with the quality of the G3 case and would like to place an order asap."
Pat B., Collegeville, PA
"I tested the G2 line and it was very good. We immediately added the vendor to our school system's purchasing approved vendors. The price and quality were unbeatable. The G2 offered better protection than the Apple cases for much cheaper cost. it is also far cheaper than the Griffin cases which are great but expensive. I ordered a sample of the G3 case and it surpasses everything the G2 offered. The case fits perfectly into Bretford carts (a must for us) and is comfortable to hold. The stand works well, easily allowing landscape or portrait positioning. The ports are exposed but protected by the case edges rising around them. With wholesale pricing from the vendor this is the best priced case on the market and offers massive protection. Whether an individual purchase or an organizational purchase, nothing else is comparable. It's all our school system will buy now. Oh, and the vendor does offer the ability to pre-configure cases with asset tags, color labels showing school logo, name, etc."
Wolf M., Newport News, VA
"We just received the G3.. it's totally awesome!"
Tyler N., Valley Glen, CA
"Awesome! … Thank you so much. Can't wait to get the iPads in those little hands. Great customer service. I really appreciate it and I will continue to recommend your company to others."
Frank L., Millbrae, CA
"I would like to thank you for taking care of us like you have, by standing behind your product and making changes, you have earned my respect and continued patronage. If you need a reference for future customers please feel free to use my contact information. It would be an honor to help in any way that I can."
Paul T., Bella Vista, CA
"What took so long? I ordered them yesterday afternoon and I had to wait until this morning to receive them! Got them, they look great, thanks."
Tim D., West Lafayette, IN
"We did receive the cases. They were in excellent condition and have been very favorably received by our staff. The cases are wonderful! Thank you."
Bette N., Lakota, ND
"Our Principal was very impressed with them, and would like 10 more ASAP."
Valerie B., Afton, WY
"Thank you so much. I am very impressed with the service I have received from your company, you especially. I will definitely recommend your products to my colleagues."
Theresa G., Simi Valley, CA
"Thank you very, very much!!! I placed my order on Dec 7, 2012, and received it on Dec 10 (3 days). I chose First-Class Shipping (10-15 business days for delivery). Unbelievable customer service/friendly! In the future, I will definitely order, when needed, from igearunlimited.com, and will tell my friends and coworkers about your outstanding customer service, and sense of urgency in expediting the shipment of merchandise to the customer(s). Again, thank you very much, and Happy Holidays!"
Gary S.
"I got it!!! Thank you SOOOO much!!! It looks GORGEOUS! I will absolutely order from you guys again!"
Vashti T.
The Slim Tough Case G3 is available from iGearUnlimited.com. Schools should contact the company directly for educational discounts.
About iGearUnlimited.com
iGearUnlimited.com is powered by Sunrise Digital, an Inc. 5000 company established in 1988 and employs the most advanced equipment and technology, such as G7-certified HP Indigo and UV flatbed presses, and digital die-cutting, to create best-in-class products. A privately-owned enterprise, the company is based in Chicago and sells products worldwide.