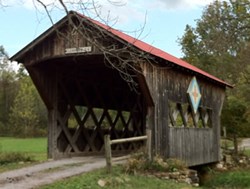 A unique folk festival in a magical mountain kingdom...Remarkable! - Steve Croffe, Festival Watch USA
Unicoi, TN (PRWEB) October 29, 2013
The Johnson City Folk Festival opens November 7 in Unicoi Tennessee - and this small, regional Festival has more luck than it knows what to do with.
First, there's the entrance - an authentic Covered Bridge. Then there's the 80 or so acres of East Tennessee woodlands that share a border with The Cherokee National Forest. And Buffalo Creek runs right through the land, once home to Cherokee and Creek Indian Tribes.
Then there's an authentic Blacksmiths Shop, a 500lb anvil surrounded by pot belly stoves and stacked wood. Everywhere. Between Buffalo Mountain, Buffalo Creek and a fully functional wood-fired brick oven putting out a hundred loaves a day, sits The Johnson City Folk Festival.
Lucky you, Johnson City Folk Festival in Unicoi, Tennessee.
How does a three year old Folk Festival that was on life support for a year find itself in the National Spotlight with a big time line-up and a sparkling list of super-talented but little known regional acts? According to Festival organizers, it's simple: establish a low ticket price, build in a high-value entertainment format and let the right philosophy attract the top tier talent.
And it's working. Nashville, Los Angles and London have been taking notes and scratching their heads as The Johnson City Folk Festival executes a business plan that has more to do with moonshine than MBA's.
And the big talent keeps showing up. This year's line-up is loaded with remarkable talent from Knoxville, Nashville, Saginaw, Michigan, California, Texas and Alabama... and folks are simply excited to play and excited to be on these remarkable stages.
The Empty Bottle String Band and Reagan Boggs top a list of outstanding players from The Mountain Kingdom and beyond. Cowboy Slim is a Nashville Favorite Son, and Steve Hughes and Ann Armstrong are the Big Wind from the Dallas and Waxahatchie, Texas area.
Most of the acts on this year's roster are located in the Golden Circle - the area in, around and between Bristol, VA, Charlotte, NC, Chattanooga, TN, Knoxville, TN, Nashville, TN, Asheville, NC, Unicoi, Kingsport, Bristol and Johnson City. This is the real heartbeat of the Americana Music Scene, Home of Country Music (Bristol, VA) and dotted with countless venues, honky tonks and stages.
Tickets are $10 per day, $40 for the Festivals' entire four days and passes for The Johnson City Folk Festival in Unicoi, TN are available at The Unicoi Visitors Center, 106 Unicoi Village Pl Unicoi, TN 37692 Call (423) 735-0426. Tickets can also be purchased at The Covered Bridge on entrance to The Festival each day. Craft Vendor tents are $10 per day.
The Johnson City Folk Festival, Inc. © 2013, All Rights Reserved. Respective trademark and copyright laws protect the Johnson City Folk Festival and The Chet Atkins Guitar Competition. The Johnson City Folk Festival can be reached at 202-255-1995, All correspondence should be directed to Johnson City Folk Festival, Unicoi, TN.