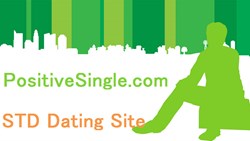 Los Angeles California (PRWEB) October 30, 2013
According to a recent report by the STD dating site PositiveSingles.com, there are more than 1500 successful stories related to the platform. About 170 couples have married, 400 partners have engaged and about 900 partners are in dating.
With the same, the platform would also be sharing the stories with other members. Those who have found their partners, can click an image together and upload the same with their story for others to read and get inspiration from. The members can also give advice to other members related to dating.
When contacted, the Marketing Manager of PositiveSingles.com said, "Many of them have given up until they discover PositiveSingles.com. When they come here, they are skeptical, but the fact is that they indeed find their love. It seems a miracle for them." He further added, "Certainly they will not come back to the site when they find their partners, which is what we hope to see. We hope them to find their happiness here."
One of the very first successful story as uploaded on the online dating platform for STD infected goes like this. "We already put up our success story when we were only dating. We met in person nearly 3 months ago after finding each other on this site, and now we are married! We just couldn't be happier as it turned out we're truly meant for each other and want to spend the rest of our lives loving each other."
Another one reads, "I was very skeptical at first and really thought at most I'd find a hook up. After talking via phone, text, and emails for about a month we finally met for the first time. We stayed in the restaurant until well after they closed just talking. After many more dates we moved in together and are currently trying to plan out a wedding and trying for our first child. I've never been in love, never knew true love, until him. Thanks PS."
If experts of the field are to be believed, the couples who have found their match are able to advise others on the positive attitude via their success story when it comes to finding love.
About PositiveSingles.com
As the largest and most trusted online dating site for people living with Herpes, HPV, HIV / AIDS, Hepatitis, Chlamydia, Gonorrhea, Syphilis and other STDs, PositiveSingles.com is completely anonymous and cares about members' privacy more than other sites. You are not required to submit any information that you are not comfortable with on this site. Whatever you are looking for Herpes dating, HPV dating, HIV AIDS dating, or any other STD dating, PositiveSingles.com is the best place.