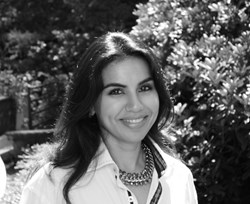 New York, NY (PRWEB) October 29, 2013
Felicia Zanguiabadi launched SweetMaterial.com in service to her zeal for fashion. Its main focus: to provide like-minded individuals access and ability through step by step instruction in personal garment production. Felicia has presented these precious gifts through her successful YouTube videos, giving those who love to make their own unique garment pieces much needed knowledge outside of the classroom.
Felicia's success on YouTube, where thousands view and learn these exciting fashion designer's tips and tricks, prompted her to launch Sweet Material to meet viewers' expectations.
The SweetMaterial.com blog has future plans to not only showcase what made Felicia a household name on YouTube, (her instructional garment videos) but also to cover other relevant topics such as beauty tips, makeup tutorials, product reviews,discussion of what is currently in vogue, as well as what's on the horizon for future trends.
"My hope is SweetMaterial.com will foster support within the burgeoning design community and help others to create original garment pieces and join a community of individuals who are hip, fun, trendy and are open to new and exciting expressions of fashion." – Felicia Zanguiabadi
Felicia Zanguiabadi has used what she's learned in the fashion world to infuse one's limitless imagination with the ability to create.
Fashion reality shows such as Project Runway and Fashion Star have stirred, enticed and inspired viewers to explore their own creativity. SweetMaterial.com is a part of that growing trend, and provides relevant and substantial help and information to all of those who love fashion and have a passion to become a part of it. Felicia, through focus, hard work, dedication and most of all a natural zeal for all things fashion has given us the SweetMaterial. Take a bite!
About
Felicia attended the Fashion Institute and has interned with world-renowned fashion designer Vera Wang. Determined to share her knowledge with others, she develops tutorials for sewing, draping, cutting and designing garment pieces. Her videos were positioned among the top ten among YouTube instructional videos in a relatively short span of time.