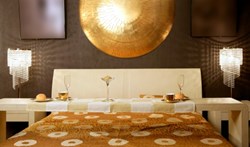 Many people, designers included, have belatedly realized that simplicity is the ultimate sophistication in any design.
San Francisco, CA (PRWEB) November 05, 2013
The common understanding of interior design places an emphasis on luxury. A definition of 'luxury' is the state of great comfort and living without restraint. By this definition, luxury does not have to mean expensive housing, furniture or decor. It can be a well developed residential style based on a beautiful blend or complement of colors selected for the walls, the upholstery, the window coverings, the rugs, and the décor. Luxury can be intangible, as in a sensibility that appreciates complex aesthetic qualities. With a perceptive eye, a beautiful home can be created with well placed furniture and decor in a rich color scheme. During one's life time, luxury will be realized as a state of mind.
Many people, designers included, have belatedly realized that simplicity is the ultimate sophistication in any design. In one's youth, especially in a first home, the introduction to various cultures, life styles, art movements, and personal philosophies is very influential and holds tremendous appeal. Often, details from each area of influence are reflected throughout the home. These details evoke a myriad of exciting emotions and ideas with little connection to a comfortable haven for living. This is, after all, the expression of a new found independence and the start of a new adult life. This is the most important fact of all. As life progresses, early influences hold less power, and fewer of these early details reflect our lifestyle in the home. Experience tempers the moods that motivate our hearts and minds, and there is a clearer vision of the personal lifestyle. It's now that a honed sensibility towards the structure, color scheme, furniture styles and décor inspires the design of the home. Quality craftsmanship in vintage and modern works should now take precedence in home design ideas and selections, including paint jobs. KindaChic.com, an online home décor and furnishings retailer, offers quality residential style manufactured in handsome materials for distinctive personal home designs.
In line with the idea of simplicity in design is the ability to arrange each element in a room, whether it is a sofa or a candlestick, to its best advantage. Sofas, arm chairs, coffee and end tables should be placed in a living room in relative proximity to enable close conversation with family and friends. The lighting, provided by a curated assortment of table lamps, imbues a soft ambiance to the room, which is as important as the color selection. A well-lit room will highlight areas along the width and breadth of the room. The color of the lighting will bring visual warmth also. A collection of artwork portrays another world in the room as well as to the viewer. The placement of each painting or sculpture should benefit the viewer's enjoyment of the art. Often, beloved artwork is reflected in the furniture designs through similar styling. A discerning eye will find the right spot for the painting or sculpture to be enhanced by the room's color and décor.
Luxury's connection with interior design is more about a sophisticated eye rather than having unlimited amounts of money to spend. The sophisticated eye is developed while decoding life's mysteries. It is created by sensitivity to daily details. With eyes and mind wide open to the world the innate senses expand. This tolerance and experience of the world will provide a deeper sense of life at home – luxury as a state of mind.