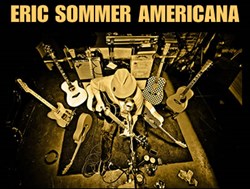 A treat for any guitar player and songwriter looking for inspiration: an authentic under-the-radar, urban star... Lee Klanph, UK Move
Charlottesville, VA (PRWEB) November 07, 2013
For Pop Americana Artist Eric Sommer, The Jefferson Theatre has been a very good venue.
This venerable performance space is a national landmark - and sits in the heart of Charlottesville, Virginia, right in the center of this 200 year old Colonial American town surrounded by The University of Virginia and the works of Thomas Jefferson.
And Eric Sommer has played there many times. Not in the theatre itself, however, but in the outside foyer by the box office. Mr. Sommer, unscheduled, pulls up with a few guitars, a road case and a 1937 vintage National amp and makes a difference that is remarkable.
The sound floats around the Downtown Mall, wanders up to the high-price lofts and condos above the foot thoroughfare, circles the 200 year old spires and cobblestones... and brings the tenants to the windows who clap and whistle between songs.
Now Eric Sommer will get a chance to perform off the street at a certified listening venue, The Stage Cafe, also in Charlottesville. On November 15th Eric Sommer takes the stage for a show that starts at 8pm and goes to 10pm and includes local David Tewksbery opening the evening set.
A recent video from a Pittman, NJ sound check gives a little insight into this players skills and musical thinking. Technique, tunings and on-the-fly modulations add a sense of drama and inventiveness to this performers' presentation. Mr. Sommer has been known to appear with 5-8 guitars and 6-9 small amps but they are - with one or two exceptions - all fairly cheap guitars and amps and have only a few modifications.
The Stage Cafe sits inside C'Ville Coffee which is located at 1301 Harris St, Charlottesville, VA 22903; tickets for this show are $5.00 and the Cafe can be reached at (434) 817-2633.
Eric began his professional musical career in the Boston area and playyed and has been a regular player on many national tours and showcases. He worked in Europe for two years on Danish, German and British rock stages, returned to Boston and formed The Atomics, a cult power-pop band in South Boston.
His influences are as diverse as Townes Van Zandt, Steve Earle, Steve Howe and The Ramones. Mr. Sommer's current project with power trio "The Solar Flares" shake up Chet Atkins and David Bromberg influences with those of Randy Travis and Elvis Costello - a remarkable mix.
With open tunings, slide guitar, lap-slap tone guitar and a remarkably aggressive fingering style approach, watching Eric Sommer will make you jump out of your seat and holler for joy! There are very few players who have maintained this authentic American style of guitar and Eric Sommer is one of the very best.
Amen.
____________________________________________________________________________
For Music Samples please visit Eric Sommer online for additional schedules or contact him at eric(at)ericsommer(dot)com or call 202-255-1995. Additionally, you can find Eric Sommer on Facebook at ericsommermusic and twitter@itsericsommer. RAINY DAY KARMA is also available on iTunes and CDBaby.
Eric Sommer is represented by Clyde is Thinking, and PR programs are managed thru MTG/NY; For more information, promo/appearance requests or to set up an interview, please contact Tom Monihan 202-255-1995.