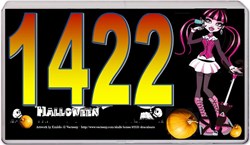 Products should have clear specifications, and as needed, enough 'brains' to live up to them at all times!
San Diego, CA (PRWEB) October 30, 2013
ADVS-technologies is pleased to introduce real-time configuration updates for its upcoming production version implementation of the intelligent patented MagicSign™ product line. These updates will ensure compliance to energy efficiency and other requirements during the life span of the product projected to exceed ten years of operation.
As described in the patent, the MagicSign™ devices includes the intelligent illuminated residential address, as well as street name and directional signs. Additionally, under control of a host computer, MagicSign™ can be updated during the projected life span of over ten years, by adjusting the levels of illumination and the maximum power consumption per local regulations.
The MagicSign™ can use as little as half of Watt of energy to produce enough light for the easily customizable street sign to be seen from hundreds of feet away.
"The LED's are recognized as one of the most cost and energy efficient light producing devices on the market", says inventor Zachary Braunstein. "Still, in engineering terms, there is significantly more in terms of efficiency that can be achieved. In other words, existing illumination products using LED's can deliver the functionality while consuming less energy. Addition of intelligence, such as embedded controls with self-diagnostics, helps to improve reliability, longevity and efficiency. Yes, the signs should be esthetically beautiful. Adding intelligence for a fraction of a cost of the 'beauty part', is a smart choice. Beautiful, reliable and environmentally friendly – represents an awesome combination for any product, including the illuminated address and street name signs."
"Products should have clear specifications", continues Braunstein, "and as needed, enough 'brains' to live up to them at all times! For the signs operating outdoors, product specification parameters in respect to ambient environment, temperature and water-proof ratings in particular, are highly important. Internal temperature rise of a product must be considered to avoid premature failures".
For any feedback, or to join up as a volunteer of ADVS-technologies mission to promote the need for illuminated street address signs, please visit http://www.magicstreetsign.com.