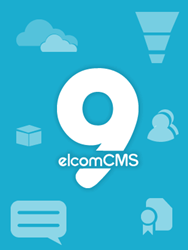 With less than 1 week away from the official release date, it is getting harder to contain our excitement.
Sydney, NSW (PRWEB) October 29, 2013
Enterprise web content management solutions provider, Elcom has shared a sneak peek into what's coming in the latest release, elcomCMS 9, due to be available on November 4th 2013.
Elcom is once again delivering a knock out product release, this time offering new features that streamline content, marketing and communication management. According to the company's website, elcomCMS 9 focuses on 6 key areas: Marketing Automation, CRM Integration, Learning Management, Cloud, Social and general enhancements.
For Marketing and Sales professionals, elcomCMS 9 will provide extended lead generation, nurturing and profiling functionality through its new Marketo Connector. Salesforce.com and SugarCRM connectors will close the gap between sales and marketing data, to provide measurable results and reduce administrative headaches.
elcomCMS' existing learning management solution has been enriched to provide Training, HR and Learning and Development managers with the technology to offer easy training management and an engaging learning experience.
Organisations immersed in the world of social media and networking can take advantage of elcomCMS' new crowdsourced question and answer platform, elcomCMS Social Q&A.
In addition a new elcomCMS mobile app will be available, as well as new cloud connectors, video management features and more.
Commenting on the latest release, Anthony Milner, Elcom's Product Directory said, "With less than 1 week away from the official release date, it is getting harder to contain our excitement. We have been working with our clients, partners and prospects to understand challenges and identify solutions to help make tasks easier and strategies more effective. With each release endeavour to deliver an outstanding enhancements every time and I am really proud of what we have achieved here."
Milner continued by saying, "We have an exclusive cocktail launch happening on the 7th of November and have invited key subject matter experts, clients, partners, analyst and industry professions to help us celebrate this great milestone. It will be a great opportunity to see what you can do with elcomCMS 9. The release will officially be available on the 4th of November, so check our website for more information, including videos and screenshots."
To find out more about Elcom please visit http://www.elcomCMS.com.