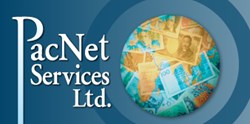 PacNet provides both inbound and outbound processing services to the short term and instalment loan industry
Vancouver, BC (PRWEB) October 28, 2013
PacNet Services, an international payment processing company that offers inbound and outbound payment services to companies worldwide, is set to attend the British Cheque Cashers Association Conference, running 29 and 30 October, 2013, at the Midland Hotel in Manchester. This year's conference, dubbed 'On the Edge?, highlights a wide range of speakers who will provide insight into interesting and challenging themes, with particular focus on the regulatory environment.
International payment expert Brian Weekes will be manning the PacNet booth, ready to meet with online lenders regarding both international and domestic payment solutions. "PacNet provides both inbound and outbound processing services to the short term and instalment loan industry. We are truly a one stop shop; with PacNet, companies can provide loan advances through UK Faster Payments and other locally relevant payment facilities, and accept repayment by debit card and direct debit. We simplify the entire process for online lenders, including explanation and negotiation of an increasingly sensitive regulatory environment." states Weekes, VP of Business Development, Europe, for PacNet Services.
Established in 1994, the BCCA is the trade association for businesses providing unsecured short term loans, such as payday, instalment and guarantor loans, credit brokerage; and third party cheque cashing services. Their years of industry experience are extended to their 430 plus membership, including delivering information in a timely fashion, offer training courses to ensure that companies are up to date with the latest regulatory changes and providing advice and support. BCCA Conference organisers are anticipating a record breaking year for the 2013 annual meeting.
About PacNet Services:
PacNet offers a diverse range of both traditional and electronic payment services for online lenders, direct response marketers, direct mailers, e-commerce, publishers and more. Some of the payment facilities offered by PacNet include credit card processing in 130 currencies, direct debit, EFT, ACH, cheque processing, and bank transfer collection from the US, UK and around the world. PacNet also initiates outgoing payments by cheque and EFT for refunds, rebates, commissions and royalties in both major and developing markets around the globe.