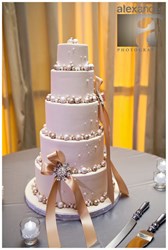 "Facebook and other social media platforms are essentially the cheapest and most effective form of getting the word out there about your business."
London, UK (PRWEB) October 29, 2013
On creating the perfect wedding or event, the Owner of Savor The Moment Wedding and Events talks to ProfileTree in an interview released today.
The owner talks to Profiletree about several aspects of the event planning business, namely scheduling and attention to finer details among other things.
When asked about her inspiration behind becoming a wedding planner, she said, "My inspiration for becoming an event planner would have to be the feeling I had inside on my special day – when every detail I had thought of came to life, when my dreams became my reality. It is a feeling beyond what words can describe and I wanted so badly to give that to each and every person I had the privilege of working with."
Her ultimate goal is being the top wedding/event planner in the central Forida area. "My hope is to provide unforgettable moments that are forever cherished, no matter what the occasion."
She advises people starting their own business saying, "Get on social media and remain active in all venues of the web that you can get access to. Market yourself, your brand, and your ability."
Ciaran Connolly, Co-Founder of ProfileTree says, "Facebook and other social media platforms are essentially the cheapest and most effective form of getting the word out there about your business,"
Profile Tree's main goal is to help small business owners reach new customers every day with the most innovative online marketing tips and techniques.
About ProfileTree: ProfileTree is a free listing service where self employed and small business owner can create an online marketing profile. From Pencil or Portrait Artist to Self Employed Service Providers - anyone can create a skills profile on ProfileTree for free.
The website also enjoys sharing motivation photos for the self employed, helping with focus and drive. From professional wedding photographers to anyone offering a service - it can be listed online today.