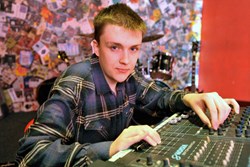 "Embracive Music Aims To Bring Music To The Masses"
NEWCASTLE, UK (PRWEB UK) 28 October 2013
Embracive Music http://www.embracivemusic.com, the brain-child of UK's Danny Kitching aka Danny Digital, announced today their foray into music promotions and Internet radio to complement their record label endeavors. Embracive Music, which is also developing into an online community, will also include a DJ Record Pool and artist/producer interviews on podcast.
Embracive Music came to the attention of the music industry in 2010 when Danny Kitching, discovered American recording artist Angie Star via YouTube, and released her first single "Butterflies" in January 2011 on his Embracive Music Records. Kitching eventually negotiated a deal that would lead to Angie Star signing with Jamrod Records; her latest release, "Poison" features Danny Seraphine, a founding member of the rock group Chicago.
Kitching's vision is to grow Embracive Music into a viable music industry service and online community that will not only feature, but promote untapped and emerging music talent of all genres in the UK and beyond. As such, Kitching has reached out to the management of Gabrielle Aplin who recently released "English Rain" for an interview prior to her upcoming Newcastle 02 Academy appearance. The interview will be streamed on Embracive Music's radio podcast.
Always on the lookout for talent, Kitching said, "Embracive will aim to find and highlight stars, before they become stars. An example would be the girl group "Chasing Daisies," I believe they are totally under the radar and should be getting more exposure. That is what Embracive is about." Embracive Music first discovered Chasing Daisies founding members Holly Blakelock and Laura Budd, when they were a duo in 2011. After adding each other's sisters, Amber Blakelock and Amy Budd to the group, they became Chasing Daisies. Underlying Kitching's ability to find talent was highlighted when the girls came second in The You Generation talent competition, this past May, that was judged by music impresario Simon Cowell and Syco's A&R team.
Embracive Music's internet radio service will adopt a 24hr, seven-day week playlist, as well as live shows made up of DJs from around the world. Promoting a more community style system that will provide a platform for DJ's to highlight their talent, while promoting emerging artist. Embracive will offer all DJs access to their DJ Pool which they intend to launch by 2014.
Embracive Music intends to be the home for emerging talent, and are currently looking for new artists for their label, and for promotions, as well as DJs for their internet radio. Embracive is also looking for artist to highlight in their news/blog section, as well as interns to support their expected growth. To learn more about Embracive Music visit: http://www.embracivemusic.com/ or https://www.facebook.com/embracivemusic.