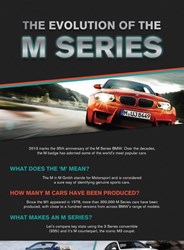 The M1 was named number ten on the list of Top Sports Cars of the 1970s.
Manchester, UK (PRWEB UK) 30 October 2013
Since the launch of the sleek and flat nosed BMW M1 sports car in 1978, the M Series continues to be popular, with over 300,000 vehicles in the Series being produced in the last 35 years.
To celebrate this iconic car (the M1 was named number ten on the list of Top Sports Cars of the 1970s* and Andy Warhol famously painted one**), online car finance specialist Carfinance247 has charted its evolution, with a colourful infographic.
The infographic*** is packed full of statistics about M Series cars, as well as comparisons with the 3 Series – plus lots of photographs that, Emily Henshall, Marketing Manager at Carfinance247, says: "Will be a blast from the past!"
"For most people, seeing past images of a BMW M Series vehicle will bring back memories – from the boxy looking M5 of the late 70s and early 80s to the Z3 M Roadster that featured in the James Bond film Golden Eye, each car has its own unique look".
Ends
*In 2004 by Sports Car International
** http://www.youtube.com/watch?v=Tzq_5EH_f6Q
***To view the infographic and see sources of the data, please visit: http://www.carfinance247.co.uk/news/articles/2304/the-evolution-of-the-m-Series-infographic-.htm
Contact:
Emily Henshall, Marketing Manager, Carfinance247.co.uk, telephone: 0800 019 7180 or email: emily.henshall(at)carfinance247(dot)co(dot)uk
About us:
Founded in 2000, carfinance247.co.uk is a privately owned business with offices based in central Manchester. We provide vehicle financing solutions for all financial circumstances such as hire purchase, personal contract purchase, contract hire and other leasing options. No deposit is required and we give you the choice of buying any car from any dealer nationwide. Or, if you prefer, we can supply and deliver any make and model of your choice.
Address: The Loading Bay
Albion Works
12-18 Pollard Street
Manchester
M4 7AJ