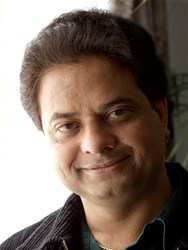 Not only does the key to your happiness lie within you, but also the key to the happiness of all of humanity
(PRWEB) October 30, 2013
A historic event 'TRANSFORMING HUMANITY' is scheduled to be held as a part of the Trivedi Remote Workshop on November 9, 2013 at 1pm ET to 7pm ET under the aegis of Mr. Mahendra Trivedi and Dahryn Trivedi. The event will add a jewel to the crown of human wellness, as a new Trivedi Master would be announced during this very event. People from across the globe are going to be a part of this significant moment and get an energy transmission from the new Trivedi Master and from Mr. Mahendra Trivedi and Dahryn Trivedi as well, all from the comfort of their home.
It may be noted that Mr. Mahendra Trivedi, with the unique ability to transmit a powerful energy through his thoughts has miraculously transformed living organisms and non-living materials to serve a higher purpose. Know more about the Trivedi Effect® on http://www.trivedieffect.com/
The effects of these energy transmissions, known as the Trivedi Effect®, has astounded the scientific community with its incredible impact. Mahendra Kumar Trivedi has participated in over 4,000 experiments to test, measure and validate the impact of this energy and has succeeded in ruling out the possibility of the placebo effect. The most sophisticated technology available on this planet at world-renowned universities has been used to test the transformational impact of Trivedi Effect® and the amazing results have led to publications in international, peer-reviewed, and scientific journals (see http://www.trivediscience.com ).
Tens of thousands of people from all walks of life have reported profound peace and true happiness with the help of this Energy Transmissions and have given testimony to the miraculous impact of this energy, which are available at http://triveditestimonials.com/. People from all over the world can start to benefit from the effects of the Trivedi Energy Transmissions™ and can register for a variety of energy transmission programs and experience the profound benefits (see http://www.trivedimasterwellness.com ).
Dahryn Trivedi, Mahendra Trivedi's wife, has also been gifted with the ability to transmit this miraculous energy. Dahryn is connected to the Universal Feminine Energy and radiates love and compassion. Like Mahendra Trivedi, she too expresses a strong desire to help people achieve true, everlasting happiness.
"Not only does the key to your happiness lie within you, but also the key to the happiness of all of humanity"- Mahendra Trivedi
Recently, during the period of special prayers from October 5-13, 2013, a question crossed Mr. Trivedi's mind- "Does this Power that I transmit have the ability to solve the greater problems of humanity as a whole?"He soon received his answer from his Divine: "YES!" Even more significantly, he also realized how this can be accomplished and what a person can do to help.
Immerse yourself in profound knowledge, deep experience and exciting discovery during this event scheduled on Saturday, November 9th, 2013 at 1pm ET to 7pm ET.
Individuals participating in this workshop will be able to discover the one simple solution to the most challenging problems plaguing humanity and learn the unique way how s/he can play a role in transforming all of humanity.
Be among the first to meet the New Trivedi Master and get an energy transmission from him/her. Receive two additional extended Energy Transmissions from Mr. Trivedi, Dahryn, and the New Trivedi Master together, all from the comfort of your home. Early Enrolment Offer till October 31, 2013 for only $150 – SAVE $50
Don't miss this lifetime opportunity. Join us at this historic event and discover what the Trivedi Masters and you can do to help find real and lasting solutions to the greatest problems of the world – now and for generations to come.
People are still registering to participate in this special workshop. To know more and register now, please visit http://www.trivedieffect.com/trivedi-remote-workshop/