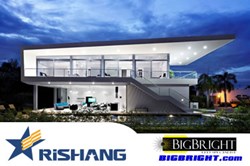 Rishang has been manufacturing commercial and for many years where this expertise is important to ensure that products meet the international standards.
(PRWEB) October 31, 2013
BigBright LED has been playing a pivotal role in the market as one of the major supplier of LED lighting products for most businesses today, offering award winning and practical products for both the commercial and private sectors.
To facilitate this expansion, BigBright LED will be launching LED lighting products from Rishang for the Malaysian market. This will be a remarkable partnership of 2 industry leaders from the Asean region as Rishang is a top LED manufacturer from China with a strong brand presence around the world while BigBright LED is a reputable and reliable supplier of industrial and consumer lighting products in Malaysia.
To launch this new and exciting venture, BigBright LED will be adding new products into the current offerings which will include the highly versatile LED strip and the LED Rigid Bar as well as many other LED modules catered for different purposes.
The use of LED technology in lighting is an exciting one since LED bulbs is the latest and preferred solution in the consumer market. In recent years, consumer from all categories has been aware of the benefits of LED lighting mainly because they are more reliable than conventional lighting. LED lighting can produce better illumination and brightness that are more even and constant while being able to operate for longer hours. On top of that, LED lights are more energy efficient where they consumer lesser electricity which then reduces the monthly overheads like utility bills.
This partnership will now bring more affordable and economical LED lighting modules and products for all market segments that encompass the commercial and private sectors and more evidently in the consumer electronics market as more LED modules are now available.
As a renowned brand in LED lighting, all the products that with the Rishang brand are designed and manufactured with the highest quality where they go through strict regulations and safety testing before they are made available in the market.
Rishang has been manufacturing commercial and home LED lighting for many years where this expertise is important to ensure that products meet the standards and requirements not only from the customers but by the quality assurance agencies.
Hence, all the products are tested and quality-sealed to ensure that they are safe for use and installed in which they are certified with CE, UL, CQC and RoHS, all of which are international safety and quality standards.
With more than 15 years of experience in supplying of lighting products in the Malaysian market and clients ranging from restaurant chains to banks, the new product offerings will further strengthen the brand image among the consumers. All the products offered in this new expansion come with 3 to 5 years warranty against manufacturer defaults.
The LED strips and LED rigid bar products are commonly used in signage lighting where they are part of the many different types of LED modules. The illumination colors of the LED module are pure white with power consumption of each unit at only 0.72W, making them among the lowest and more energy efficient in the market today.
The technology in providing high illumination in low power consumption is unique to Rishang which is the top manufacturer of signage lighting in China and the surrounding region. The launch of the new products will benefit the local Malaysian advertising and marketing market segments with more affordable solutions that can be used for above and below-the-line advertising options. Meanwhile, retail outlets like shopping malls, restaurant and eateries can use these products for signage purposes as well.
Bigbright is a fully subsidiary of Bigbright LED Solution with offices in Kuala Lumpur and L angkawi. Bigbright LED is the LED specialist in malaysia market for mroe than 10 years supplying LED products to more than 50 major corporates from hotels to government offices.