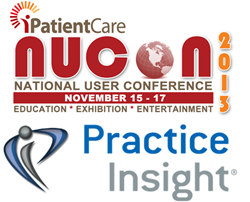 Practice Insight is excited to unveiling iPatientCare EDI at NUCON 2013 and plans to address iPatientCare users to elaborate on this unique solution, David Henshaw, National Accounts Manager, Practice Insight.
Woodbridge, NJ (PRWEB) October 29, 2013
iPatientCare, Inc., a pioneer in mHealth and cloud-based ambulatory EHR and integrated Practice Management solutions announced launching of iPatientCare EDI in strategic collaboration with Practice Insight, which will be exhibiting it at iPatientCare National User Conference (NUCON) 2013 as a Gold Sponsor.
iPatientCare and Practice Insight are pleased to announce the launch of iPatientCare EDI, the iPatientCare's Clearing House solution, powered by Practice Insight. This seamlessly integrated solution will allow iPatientCare PM users to submit insurance claims directly to over 3000 payers. Additionally, this new product will allow seamless verification of patient eligibility and posting of electronic remittances.
Practice Insight® LLC is a leading EDI solutions provider in the United States and has been utilized by over 50,000 providers throughout the United States and Puerto Rico. David Henshaw, National Accounts Manager, Practice Insight said, "We have been working within the healthcare industry since 1977 which has given us an extensive understanding of physicians' practices and the HealthCare Revenue Cycle Process. We are pleased to have this strategic integrated solution with iPatientCare that will allow iPatientCare users to submit insurance claims, post payments, and verify eligibility directly from iPatientCare Practice Management System."
Practice Insight is excited to unveiling iPatientCare EDI at NUCON 2013. Practice Insight is proud to be a Gold Sponsor of this national conference, and plans to address iPatientCare users to elaborate on this unique solution and its ability to automatically post charges directly into iPatientCare through iPatientCare EDI.
"iPatientCare is pleased to announce Practice Insight as the Gold Sponsor of iPatientCare NUCON 2013 and launch the iPatientCare EDI", said Shahab Shaikh, Enterprise Integration Specialist, iPatientCare.
About Practice Insight
Practice Insight® LLC has been providing services to the healthcare industry since 1977. Their years of experience has given the company an extensive understanding of physician practices and the healthcare revenue cycle process.
Practice Insight's industry experience and technical ingenuity has made them a leader in automating healthcare. The core of Practice Insight's product is the EDIinsight® application which makes it possible to not only submit claims to insurance payers but also the power to track claims in real-time, create claim letters, customize claim edits, create secondary claims, manage their claim workflow, verify patient eligibility, process patient statements, recover ERA accounts receivable, monitor user productivity, analyze all EDI transactions, manage their customer support, and much more. To meet the demands of the changing healthcare market, Practice Insight has designed EDIinsight® so that it can be implemented out of the box or easily customized to an individual customer.
Visit http://www.practiceinsight.net/pi-website/index.htm for more information.
About iPatientCare
iPatientCare, Inc. is a privately held medical informatics company based at Woodbridge, New Jersey. The company is known for its pioneering contribution to mHealth and Cloud based unified product suite that include Electronic Health/Medical Record and integrated Practice Management/Billing System, Patient Portal/PHR, Health Information Exchange (HIE), and mobile point-of-care solutions that serve the ambulatory, acute/sub acute, emergency and home health market segments.
iPatientCare 10.8 is compliant with the ONC 2011 Edition criteria and was certified as a complete EHR in accordance with the eligible provider certification criteria. Full certification details can be found at https://www.cchit.org/show-onc-cert?certid=a055000000D3BH1AAN. iPatientCare 10.8 is also certified in CCHIT's separate and independently developed certification program and is a CCHIT Certified® 2011 Ambulatory EHR additionally certified for Child Health.
The company has won numerous awards for its EHR technology and is recognized as an innovator in the field, being a pioneer to offer an EHR technology on a handheld device, an innovative First Responder technology to the US Army for its Theatre Medical Information System, the first to offer a Cloud based EHR product. iPatientCare is recognized as one of the best EHR and Integrated PM System for small and medium sized physicians' offices; has been awarded most number of industry Awards; and has been recognized as a preferred/MU partner by numerous Regional Extension Centers (REC), hospitals/health systems, and academies.
Visit http://www.iPatientCare.com for more information.