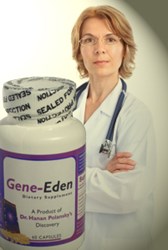 We recommend that individuals infected with the HPV virus should eat more vegetables. We also recommend that these individuals take Gene-Eden-VIR,a natural, clinically proven anti-HPV remedy. – Mike Evans, polyDNA
Rochester, NY (PRWEB) October 29, 2013
Vegetarians are less susceptible to HPV infection. In fact, many studies have reported that eating a plant based diet lowers the risk of HPV infection (1). One study published in the Journal of Biosciences reported in 2012 that women who ate meat had a higher rate of HPV infection than vegetarian women. "Women taking non-vegetarian diet showed higher association (P≤0.05) with HPV than women taking vegetarian diet. (2)."
Another study found that when women with a high risk HPV infection consumed large amounts of vegetables, they cut the risk of chronic HPV infection. A study published in 2002 in the journal Cancer Epidemiology, Biomarkers and Prevention, found that "Higher levels of vegetable consumption were associated with a 54% decrease risk of HPV persistence (3)."
In addition, Dr. Greger wrote that "phytonutrients like lutein (found in dark green leafy vegetables) and lycopene (the red pigment in tomatoes) may decrease viral load, thereby decreasing persistence and progression to disease (1)."
"Many studies found that vegetarian diets strengthen the immune system. Many plants have antiviral properties. We recommend that individuals infected with the HPV virus should eat more vegetables. We also recommend that these individuals take Gene-Eden-VIR, a natural, clinically proven anti-HPV remedy." – Mike Evans, polyDNA
A study published on August 12, 2013 in the peer reviewed, medical journal Pharmacology & Pharmacy, in a special edition on Advances in Antiviral Drugs, showed that Gene-Eden-VIR reduced HPV symptoms. Study authors wrote that, "Individuals infected with the HPV…reported a safe decrease in their symptoms following treatment with Gene-Eden-VIR (4)." The study authors also wrote that, "We observed a statistically significant decrease in the severity, duration, and frequency of symptoms (4)."
To learn more about Gene-Eden-VIR, and HPV visit http://www.gene-eden-kill-virus.com. All orders of Gene-Eden-VIR are completely confidential, and no information is shared or sold to any third party. Privacy is assured.
###
References:
(1) http://www.care2.com/greenliving/why-might-vegetarians-have-less-hpv.html
(2) http://www.ncbi.nlm.nih.gov/pubmed/22357204
(3) http://www.ncbi.nlm.nih.gov/pubmed/23169929
(4) http://www.scirp.org/journal/PaperInformation.aspx?PaperID=36101
polyDNA is a biotechnology company that develops dietary supplements using the unique scientific method developed by Dr. Hanan Polansky, which is based on Computer Intuition.
In addition to his unique scientific method, Dr. Polansky published the highly acclaimed scientific discovery, called Microcompetition with Foreign DNA. The discovery explains how foreign DNA fragments, and specifically, DNA of latent viruses, cause most major diseases.
polyDNA developed Gene-Eden-VIR, an antiviral natural remedy that helps the immune system kill latent viruses.