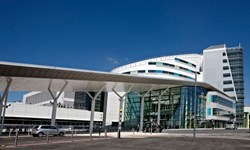 Less invasive treatments, which negate the need for surgery, certainly represent a significant advancement.
Bolton, UK (PRWEB UK) 29 October 2013
According to the BBC, the University Hospital in Birmingham are trialing a new gene therapy hospital treatment, aiding in the fight against prostate cancer (1). The pioneering treatment could help prevent the incidence of surgical errors, increasing the success rate associated with treating the disease.
It is believed, that if the treatment works, surgery for prostate cancer will become a thing of the past, eliminating the surgical errors associated with the procedure.
According to the BBC, the University Hospital in Birmingham is among the first to trial the new treatment, stimulating the body's own immune system to attack the tumor (1). With studies on mice showing complete eradication of the cancer, hopes are high for the imminent human trials.
A new form of gene therapy, the treatment requires a virus to be injected directly into the prostate cancer tumour; a gene attached to the virus (GM-CSF,) is then released, activating the body's own immune system, attracting white blood cells to attack the cancer (1). As reported by the BBC, the virus also carries an enzyme - nitroreductase - which sits inside the cancer cell.
Two days after the injection, the patient in question will be put on a drip, which contains a cancer drug (CB1954), which is initially inactive. When the drug comes into contact with the enzyme, it reacts and starts killing the cancer cells. The inactive drug, CB1954, does not harm cells which do not have the enzyme inside, protecting the healthy tissue surrounding the tumour (1).
Urology Specialist, Prashant Patel, is hopeful that gene therapy could provide real hope for patients who are running out of treatment options (1).–
"I have to stress that this is only a phase one safety trial to test that there are no side effects. However, we are excited by this."
"If this works, 15 to 20 years from now, we could be using the patient's own immune system in this way to fight early onset prostate cancer so that patients won't need painful treatments or even surgery."
Considering the procedure, Asons Executive, Laura Williams –
"This technique represents a progression in cancer treatment, and it will be interesting to see how this trial develops."
"Negating the need for surgery, and its associated complications, is a positive step; it may also improve the prognosis for those whose treatment has been delayed due to cancer misdiagnosis."
"At Asons Solicitors, we see claims for surgery compensation, where complications have hindered recovery. Less invasive treatments, which negate the need for surgery, certainly represent a significant advancement."
In the event that someone has been subject to cancer misdiagnosis, they must seek legal advice as quickly as possible. Taking action can prevent the same situation from reoccurring, helping others to avoid injury in future.
Those who have suffered from cancer misdiagnosis may be able to make a clinical negligence claim for cancer misdiagnosis compensation. Asons Solicitors deal with NHS compensation claims on a regular basis, they can be contacted on: 0844 850 1062 or via their medical claim form at asons.co.uk.
-Sources-
(1) BBC News, University Hospital Birmingham team pioneer cancer gene therapy, (23/10/2013) bbc.co.uk/news/uk-england-birmingham-24635924
-ENDS -
About Asons Solicitors:
Asons Solicitors is a Bolton-based law practice that specialises in personal injury and industrial disease claims. Founded by brothers Imran Akram and Kamran Akram, Asons Solicitors has developed to become a young and dynamic law firm that delivers practical solutions to clients in times of difficulty. Their continued focus on their staff has seen them awarded with the Investors in People "Gold Award"; which is reflected in the professional and personable approach they take in working with clients. They strive to grow and to develop, and their supportiveness and attention to detail ensures that their clients use them time and again.
For further information contact:
Email: info(at)asons(dot)co(dot)uk
Website: http://www.asons.co.uk