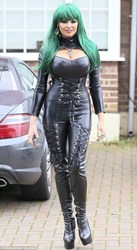 Jessica looks beautiful in the Green 'Tigzy' wig, and it totally completes her outfit in style.
London (PRWEB UK) 28 October 2013
On Saturday night TOWIE star Jessica Wright, celebrated Halloween in style. Wearing a leather catsuit at the 'Seven Deadly Sins' bash, Jessica ditched her usual glam extensions and went for a sexy Halloween look with a aqua green and black wig by Wonderland Wigs.
The wig is a long full wig, in a straight style with blunt cut fringe and has been hugely popular this Halloween.
Samantha McClements from Wonderland Wigs explains, "Our wigs are usually worn for fashion purposes, girls want great hair and we give it to them in an instant, but this Halloween lots of girls have gone for us, I think it's because although they want to look 'scary' they also want to look 'sexy' and this is a classic example of that. Jessica's hair looks amazing and really makes her outfit."
--------------------
Wonderland Wigs are a leading UK brand of Wigs, Half Wigs and Hairpieces. There full range is available online at http://www.WonderlandWigs.com. For an interview, hi res images or commentary please contact Samantha McClements.