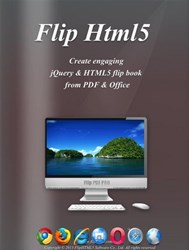 (PRWEB) October 28, 2013
Recently, Fliphtml5.com, a renowned online company with the latest PDF to flip book conversion tools, has announced its new excellent Flip Book Creator.
According to the CEO of the company, the new Flip Book Creators are based on HTML 5 and JQuery. It is a top free PDF to flip book convertor. It has all basic features of the most advanced software. With this new software, Flip Book Creator, users will have a feeling of reading a paper book, because the creator presents an amazing animated page flipping effect. The tool has distinguished features: multiple importations, page edition feature, external settings, functional button settings, three outputting types of files and so forth.
He tells the reporter, "We are happy to release our new design to our customers worldwide. Now, the HTML5 era is here. Our Flip HTML5 is a practical flipping book creator. It is very easy and convenient to use. What you need to do is only sign up an account and download the software for conversion of any PDF, Image, Open Office files or Microsoft Office. What's more, it's for free! Welcome to our website to have a look."
Fliphtml5.com has been specializing in Flip Book Creator for many years. The Flip Book Creator can help customers create engaging and interactive HTML5 online magazine, HTML5 page flip book, online catalog and e-brochure.
About Fliphtml5.com
Fliphtml5.com is a reliable online company offering HTML 5 based flip book maker. It provides impressive software at no cost for customers from all over the world. The purpose of this company is to help people gain a wonderful online reading experience. More detailed information about the company and its advanced products can be found at its website.