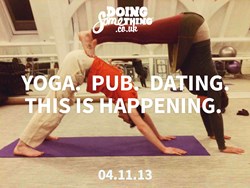 Yoga relaxes and energises you so you feel more vibrant, present and authentic. - Richard Brook, Creative Yoga London
London (PRWEB UK) 29 October 2013
If the idea of seeing a potential partner lycra clad and sweating profusely leaves you more OMG than OMM, then at first glance Yoga Pub Dating might not be for you.
But just hold on a Downward Dog second. In the spirit of Yoga, take a deep breath, and leave your judgements to the side for a moment. Then invite the idea that, quirky as it sounds, Yoga Pub Dating might even be a better way to get to know someone new than conventional dinner-and-a-movie date.
Innovative dating site DoingSomething.co.uk has teamed up with Singles Yoga expert Richard Brook today to launch weekly singles night Yoga Pub Dating. Firm believers that the best dates give people something to talk about, it's no surprise they're backing an activity that 'Opens your Heart energy'.
Richard's interactive style of teaching enables participants to connect with each other as part of the experience of practising yoga. Then afterwards retire to a pub for a yogic tipple of your fancy to discuss who had the best Sun Salutation.
DoingSomething's tagline 'Dating's more fun when you're DoingSomething' sees a shared activity taking the pressure off a first meeting and creating a common point of interest. Whilst that 'something' could be as normal as flying a kite, playing Ping Pong or taking a walk in the park, it can also be as unusual as a Yoga Class followed by a drink.
Teacher Richard Brook, Director of Creative Yoga London, explains why Yoga is a great way to get to know someone new: "When people meet in everyday life, especially on a date, they can feel awkward and distracted. Yoga relaxes and energises you so you feel more vibrant, present and authentic. The class is geared to suit all levels of experience, from beginner all the way up - as we all benefit from healthy, fun time spent with others. And surprisingly there's been a strong demand from men too."
Matt Janes, DoingSomething co-founder and CEO, jokes, "It's not everyone who can say they've been on a Yoga Pub Date. So whilst it's at the adventurous end of activities people suggest, it really embodies the spirit of our site. You're bound to have tons to talk about in the pub afterwards which is the whole point of a DoingSomething date."
Richard continues, "We begin with relaxation and basic meditation. Then we move on to partner yoga and connection exercises where we rotate partners so everyone gets chance to work with different people. When you are in a class together, you also build up a collective comfort with one another which also makes it easier to chat later." While even the most open minded Singleton might be slightly self conscious about profuse sweating, they can be reassured. "It's a far cry from Bikram Yoga where you're standing dripping with sweat. The class is geared towards Interaction and connection," adds Richard.
Of course you could always skip the yoga and go straight to the pub. But unless you arrive in loose clothes with a light glow, people might be suspicious. And without doing Yoga first, you're going to have nothing to talk about, which is kind of the point.
Yoga mats provided. Just bring an open mind.
To book your place, go to http://www.doingsomething.co.uk.