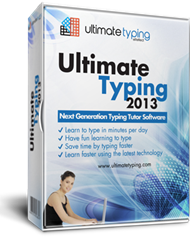 ...technology can enrich and open up new potential for writing skills.
New York City, NY (PRWEB) November 01, 2013
Several industry-leading touch typing software products have recently been reviewed by the Top Ten Reviews editors and the top ranking typing tutors have been announced. Ultimate Typing™ 2013, the latest educational software by eReflect, ranked high among the top software products in its category, earning substantial initial positive feedback for the newly released software.
As eReflect's development team noted in a brief statement today, promoting typing skills increases overall literacy levels, and such educational goals are a key part of the software company's philosophy. Pointing to a recent article by handwriting expert Kate Gladstone, the team commented that as Gladstone says, people shouldn't fear that technology will eliminate handwriting skills (and therefore writing ability). Rather, technology can enrich and open up new potential for writing skills. Typing software is one such way that technology can assist the perpetuation of handwriting and other writing skills, although in a different mode and platform.
The reviewers at TopTenReviews.com pointed out that typing skills are essential in today's economy, and delineated the features and tools an efficient typing software ought to have in order to provide learners with advanced typing skills in a short period of time and with minimum effort.
Top Ten Reviews examined a range of high-quality software for their efficiency, features, progress charting, and training activities. The software product were assessed using numerous parameters and Ultimate Typing™ was found to consistently rank above 9/10 in all categories, achieving a final score of 9.5/10. The variety and volume of typing exercises were among the most exemplary characteristics of the software, as were its ergonomics and posture training tutorials, according to the review. The specialized and adaptive learning features of the program were also highlighted as Ultimate Typing™ offers users customizable lessons and activities that adjust to a learner's particular typing training needs. The development team at eReflect remarked that this allows people who are comfortable with handwriting, but not with typing, to easily transfer their skills with words into the new medium.
For the reviewers, progress reporting was another aspect the software did well at. More specifically, the reviews underline the fact that Ultimate Typing™ 2013 offers an exhaustive list of progress reporting features including word-per-minute tracking, accuracy tracking, and key, finger, thumb performance monitoring. In view of the accumulated scored Ultimate Typing™ received by Top Ten Reviews, the software is classified in the top ranking tier of Excellence, with a score of 95%.
For more details on Ultimate Typing™ please visit http://www.ultimatetyping.com/.
About Ultimate Typing™
Ultimate Typing™ software is designed specifically for the improvement of typing skills. Created by eReflect, a world leader in e-learning and self-development software, Ultimate Typing™ has been informed by the latest developments in the science of touch typing.
Since its creation in 2006 by Marc Slater, the company has already catered to over 112 countries all over the world, offering products with the latest cutting-edge technology, some of which are among the world's most recognized and awarded in the industry.