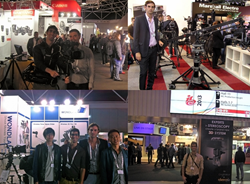 We're dedicated to ensuring a technological advantage for all of our customers
(PRWEB UK) 7 November 2013
The announcement follows shortly after the company's successful experience at the 2013 IBC expo earlier this year, where CameraKings.co.uk established new relationships and further strengthened connections with multiple broadcast equipment manufacturers.
The Showroom
The new showroom is located directly next to the company's pre-existing warehouse in Camden Town, London.
Within the space customers will find a wide range of products and brands previously only showcased on the CameraKings site. Visitors will also be able to meet with a CameraKings representative, who'll be fully equipped to answer technical questions and explain product specifications, as well as give first-hand demonstrations of the equipment in action.
IBC
The IBC exhibition is an annual event that focuses on broadcasting and news professionals. Attracting well over 50,000 attendees from all over the world, IBC combines well renowned industry specific conference with a large exhibition that displays state of the art media technology from a number of acknowledged brands.
The event provides an exemplary opportunity for networking. Having visited the expo looking for the latest trends in technology, CameraKings also used the occasion to build mutual business relationships with a large number of suppliers, including renowned camera support equipment manufacturer, Cartoni. CameraKings.co.uk have also reached similar agreements with several industry leading companies, including Denz-Deniz, Rotolight, WalimexPro and SHAPE.
A spokesperson from the company had this to say:
"We're incredibly pleased to announce the opening of our new showroom. This will give our customers opportunities like never before, with the chance to see their favourite products in all their glory before making the decision to purchase online.
"This year's IBC Expo was a wonderful experience, where we were lucky to meet many amazing brands. We're dedicated to ensuring a technological advantage for all of our customers, which is why we are set on discussing with other brands how we can future proof our equipment and supply our consumers with the latest DSLR, 3rd Gen camera technology."
The new CameraKings showroom is open now, so for more information. visit CameraKings.co.uk.
About CameraKings.co.uk
CameraKings.co.uk caters for all sizes of productions, from amateur filmmakers to the largest film studios. Since launching their new website in 2011, they've renewed their commitment to provide the very best online retail experience to customers when it comes to filming & broadcasting equipment.