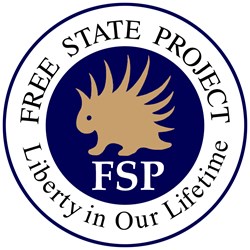 My wife and I and our 2-year-old daughter just moved ourselves, based on the successes we've seen other FSP participants achieve on the social and political front.- Jason Sorens
Manchester, New Hampshire (PRWEB) October 28, 2013
The Free State Project announced today that more than 15,000 participants have now signed up to move to New Hampshire for more liberty. This mass migration movement aims to concentrate 20,000 liberty activists in the Live Free or Die state. At the current rate of sign-ups, the organization anticipates it will "Trigger the Move" in 2015, three years ahead of schedule.
"Reaching 75% of our goal is a major milestone," said FSP president, Carla Gericke. "I attribute the acceleration in sign ups to things like the NSA surveillance scandal, the TSA, the NDAA, the PATRIOT Act, Obamacare, unconstitutional gun control legislation, and the unwarranted wars under both Bush and Obama. As America devolves into a police state, well-informed people are seeking safe havens. The FSP offers a proven strategy for individuals who are looking for more liberty within a community of like-minded people."
FSP participants pledge to move to New Hampshire within 5 years of reaching the 20,000 mark, agreeing to the following Statement of Intent: "I hereby state my solemn intent to move to the State of New Hampshire within 5 years after 20,000 participants have signed up. Once there, I will exert the fullest practical effort toward the creation of a society in which the maximum role of civil government is the protection of individuals' life, liberty, and property." Although not required to do so until the 20,000 milestone is met, almost 1,500 participants have already moved, with more are on the way.
"We know this approach is working," said FSP founder Jason Sorens, who developed the idea of the FSP as a graduate student at Yale in 2001. The vote to select New Hampshire was taken in 2003. "My wife and I and our 2 year old daughter just moved ourselves, based on the successes we've seen other FSP participants achieve on the social and political front."
Once in New Hampshire, Free State Project participants pursue various forms of individual activism. Some run for office, using the political system to work for reductions in taxation, regulation, and to reform all levels of government to expand individual rights and embrace free markets (successes include: cutting 2010 state budget by 11% or $1 Billion, enshrined jury nullification, passing marriage equality and medical marijuana). Others choose to work outside the system, such as homeschooling, or practicing civil disobedience (successes include Keene's Robin Hooders). Others bring or start businesses (successes include: world's first Bitcoin ATM).
Two incidents in the past year resulted in national media coverage, causing spikes in new FSP signers. In December of 2012, NH state representative Cynthia Chase called "Free Staters" the "single biggest threat the state is facing today. What we can do is to make the environment here so unwelcoming that some will choose not to come, and some may actually leave. One way is to pass measures that will restrict the 'freedoms' that they think they will find here." This prompted members of the community to start a petition calling for Chase's censure and impeachment, as reported by the Concord Monitor (Petition calls for censure, impeachment of N.H. representative over Free State Project comment 1/28/13).
And in July 2013 it was discovered (and reported by Mother Jones - N.H. City Wants a "Tank" to Use Against Occupiers and Libertarians, 8/6/13) that the City of Concord, NH had claimed in a federal grant application for a $260,000 Ballistic Engineered Armored Response Counter Attack Truck that "Free Staters" together with "Sovereign Citizens" and "Occupy New Hampshire" posed a domestic terrorist threat, saying the groups presented "active and daily challenges." The Concord Police Chief, John Duval, later backpedaled and allegedly filed an addendum striking references to the groups from the original grant application, as detailed by the Washington Times (N.H. Police Chief Still Wants Armored Vehicle, Regrets Claim It's Needed Against Libertarians, 8/7/13).
"We saw our website traffic double and got lots of new signers and supporters," said Gericke. "Frankly, by showing their true colors, these state agents did us a favor."
For more information, please contact: Kari DePhillips at kdephillips(at)FreeStateProject(dot)org.