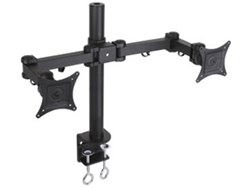 These monitor desk mounts are sure to help our customers organize and manage their work area
Quakertown, Pa (PRWEB) October 29, 2013
Ever since the startup of the Computer Cable Store™ online marketplace, Computer Cable Store™ has tried to enhance the customer experience and fill its shelves with every networking equipment and electronic accessory possible.
The most recent addition to the plethora of products already offered by the Computer Cable Store™ is the Vivid AV™ Monitor Desk Mounts. George McDowell, manager of Computer Cable Store™, informed us that the monitor desk mounts are an easy and affordable method of arranging your workspace. "These monitor desk mounts are sure to help our customers organize and manage their work area." said George McDowell.
"The Vivid AV™ Monitor Desk Mounts available at our website can be used to suspend monitors of size 13 inch to up to 27 inch." said Jeramie Cavanaugh, product manager at Computer Cable Store™. Such a wide range of utility sure shows the diligence put in by Computer Cable Store™ to give its customers the liberty of choice. One variant of the Vivid AV™ Monitor Desk Mount allows the customer to even attach two monitors to the mount at the same time. This measure seems perfect for gamers and graphic designers who need multiple windows to work in an efficient manner.
On being asked how the Vivid AV™ Monitor Desk Mounts can help elevate the consumer experience, Jeramie Cavanaugh said, "While using our Vivid AV™ Monitor desk mounts, the monitor is in a position high above the surface of the desk. This increases ambient space, which the user can implement in placing scanners, printers or the piles of official document that tend to pile up. This is the main advantage of a desk mount over a normal monitor stand." Of course, the steel arm is adjustable too, and can be used to array the monitor in a landscape view or place it horizontally for a scroll alignment. "This further increases the versatility of the device" adds Jeramie Cavanaugh.
Online shopping has become a norm today, mainly because of its ease and number of choices. And Computer Cable Store™ seems to know its job. The Vivid AV™ Monitor Desk Mounts are sure to help customers enhance their working space and utilize the much wanted space. As far as quality is concerned, the apparatus boasts of a huge optimum weight of 22 lbs, and the mainframe supports an ultra heavy duty 'C' clamp. "Customers are satisfied." said George McDowell, "You can see it for yourself on our website."