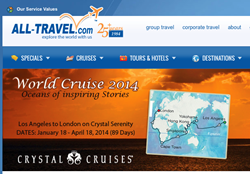 "We are real people with real knowledge dedicated to helping you get the most out of your vacation and your budget," says All-Travel.com President Eric Maryanov.
Los Angeles, California (PRWEB) October 30, 2013
All-Travel, an online luxury cruise and travel enterprise is preparing for its 30th year making travel dreams reality. All-Travel specializes in leisure and business travel planning and retains a high level of customer satisfaction by delivering extraordinary levels of service to its clients. Headquartered in Los Angeles, the company maintains a strong connection with customers through their expert travel consultants, who each specialize in different destinations on All-Travel's comprehensive dream list.
"We are not a call center, nor a booking engine. We are real people with real knowledge dedicated to helping you get the most out of your vacation and your budget," says President Eric Maryanov, "it is our main goal to connect directly and personally with our clients and provide the best solutions and professional recommendations for any vacation, big or small. All-Travel has always believed in the internet but we make sure our clients know we are there for them throughout the entire travel planning process. We engage in conversations with them and can provide recommendations and advice too complex and nuanced for booking engines to compute. This is why we have a team made up of specialists who cover any destination and every type of vacation."
All-Travel is an internet travel veteran, and has seen how the internet has changed the travel business from within. "I still remember physically printing paper tickets for our customers, and wheeling our single computer around the office," reminisces Maryanov. Even though the internet was quickly embraced by the company from a marketing standpoint, it also decided to continue providing expert knowledge and assistance by communicating directly and personally with clients. "We recognize that our customers' travel needs are the reason we exist, and we are dedicated to creating a personal, individual, and ongoing relationship so we can understand their preferences and provide personalized travel recommendations based on our relationship," says Maryanov.
All-Travel.com founder Eric Maryanov believed in the power of the internet from its early days, when the site was among the first travel sites online and the power of high speed communication was still years away. This fast moving travel company quickly established a large customer base around the world but still emphasized communicating with a personal touch, leading to a radically different experience compared to the cold internet booking machines most people know today. "We always talk with our clients and make sure we know exactly what they are looking for and then deliver that, and more," says Maryanov. This results in loyal customers and a bright reputation as a travel site who remains their advocate throughout the entire travel process.
Expert consultants in the Los Angeles headquarters know this business philosophy well and are attentive to clients' needs and dreams before travel and far beyond their return. All-Travel is a member of the Signature Travel Network - America's oldest retail travel cooperative - which enables the company to bring their customers the most competitive travel prices and special amenities. Year after year, All-Travel has been named 'Top Producer' for Crystal Cruises, Oceania Cruises, Regent Seven Seas Cruises, Silversea Cruises, Club Med, and Apple Vacations.
This year All-Travel.com is emphasizing the 2015 world cruises - the jewel of luxury travel and the quintessential "journey of a lifetime." A world cruise is one that travelers will never forget. Cruisers interested in booking their next trip with All-Travel should call 800-225-3614 or visit http://www.All-Travel.com.