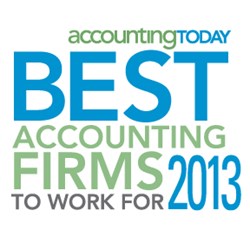 We are proud of this honor and our employees for their hard work, skill, and enthusiasm.
Chicago, IL (PRWEB) October 28, 2013
Baker Tilly Virchow Krause, LLP (Baker Tilly) was recognized last week at the Accounting Today Growth & Profitability Summit in Orlando, Fla. as one of the 2013 "Best Accounting Firms to Work For," ranking second in the large firm category, up from sixth in 2012. Baker Tilly is the largest national firm on this year's list. Accounting Today and Best Companies Group created the annual list to identify, recognize, and honor the best places of employment in the accounting industry.
"This recognition speaks volumes," Timothy L. Christen, Chairman and CEO of Baker Tilly, said. "Baker Tilly's core values of integrity, passion, and stewardship resonate throughout the firm and help define who we are as a company and an employer. We are proud of this honor and our employees for their hard work, skill, and enthusiasm."
Accounting firms from across the country entered the two-part survey process to determine the best accounting firms to work for. The first part consisted of evaluating each nominated firm's workplace policies, practices, philosophy, systems, and demographics. The second part surveyed employees to measure their experiences. The combined scores decided the top firms and the final ranking. Best Companies Group managed the overall registration, survey and analysis process, and determined the final rankings.
The Best Accounting Firms to Work For list comprises 100 companies. To be considered, companies were required to fulfill the following eligibility requirements:

Be a for-profit or not-for-profit business;
Be a publicly or privately held business;
Have a facility in the United States;
Have at least 15 employees working in the United States;
Be in business a minimum of 1 year; and
Be an accounting firm.
The full report, with rankings, will appear in Accounting Today's December 2013 issue.
About Baker Tilly
With more than 1,600 employees, Baker Tilly provides a wide range of accounting, tax, and advisory services. Ranked as one of the top 20 largest firms in the country*, Baker Tilly serves clients from offices in Chicago, Detroit, Minneapolis, New York, Washington DC, and throughout Wisconsin.
Baker Tilly is an independent member of Baker Tilly International, a worldwide network of independent accounting and business advisory firms in 131 countries, with 26,000 professionals. The combined worldwide revenue of independent member firms is $3.3 billion.
*According to the 2013 Accounting Today "Top 100 Firms."
# # #
SPECIAL INSTRUCTIONS FOR ALL MINNESOTA MEDIA OUTLETS ONLY:
All company references to Baker Tilly in this press release must be listed as Baker Tilly Virchow Krause, LLP. No shortened version of the company name is permitted.
All references to Baker Tilly International do not require modification.