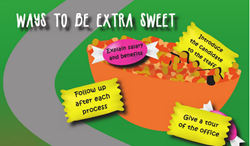 'We also know that the way a candidate is treated by an employer is crucial.' -- Erin Borgerson, Hireology's marketing coordinator
Chicago, Ill (PRWEB) October 28, 2013
Hireology, the leading selection management platform for distributed enterprises, released an infographic titled, "Trick-Or-Treating Your Candidates Right". The infographic focuses on the key statistics regarding the right and the wrong ways employers treat candidates throughout the hiring process.
The infographic uses a Halloween theme to show employers the importance of providing candidates with a good interviewing experience. By highlighting statistics like application length, communication or lack thereof, and job search satisfaction rates, the infographic aims to help hiring managers improve their processes and increase their likelihood for hiring a qualified candidate.
"Although we know that the impression an employer has of a candidate is very important, we also know that the way a candidate is treated by an employer is crucial," said Erin Borgerson, Hireology's marketing coordinator. "We wanted to add a fun touch to the infographic by relating Halloween to the hiring process."
To view "Trick or Treating Your Candidate Right," please click here. For more information on Hireology, please visit the Better Hiring Today blog.
About Hireology
Hireology's award-winning Selection Management System helps companies organize their hiring process and leverage data to make better hiring decisions. Franchise systems, banks and financial institutions, healthcare systems, dealer networks, and other multi-site operators use Hireology's web-based Selection Manager™ to deliver consistent and repeatable hiring decisions in the field - leading to better hiring decisions, lower turnover, and increased profitability per location. For more information, please visit http://www.Hireology.com.