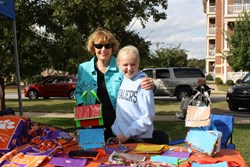 I could not have asked for a better response from our members, staff and outside community.
Greenville S.C. (PRWEB) October 28, 2013
Cascades Verdae, Greenville's premier retirement community, raised $4,275 for the Alzheimer's Association through their first Fall Festival.
"I could not have asked for a better response from our members, staff and outside community," said Jermaine Fluker, Cascades Verdae's Social Director.
Cascades Verdae has always supported the Alzheimer's Association by donations and participating in the annual Walk to End Alzheimer's. "This year we decided to do a festival where we could raise money in a good environment, while also having a lot of fun," added Fluker. "It is rare for members, families, employees and the community to get together for a time of fellowship."
Cascades Verdae's Great Lawn was lined with carnival games, a model train exhibit, craft vendors, food tents, and a concert area, where Fayssoux McLean and her band played bluegrass music. The highlight of the night was the dunk tank, where children, members and staff all waited their turn to dunk Fluker, Executive Director Jason Johnson, and Wellness Associate Victor Ranilla.
The entire retirement community embraced the new Fall Festival. Members bought 50/50 raffle tickets, with half of the donations going to charity and the other going to a grand prize winner. Member Delores England won the raffle with a cash prize. During the festival, members and staff volunteered to be put in a miniature jail built by member Earl Piper. Through donations they could gain their freedom. Tim Thomas, a Transportation Leader at Cascades Verdae, showed up in a prison-striped jumpsuit and handcuffs.
"We wanted the festival to be a time for our staff and members to enjoy fun times, good music and comradery. More importantly, we wanted everyone to bring their families. Families are the backbone of what we do at Cascades Verdae," continued Fluker. Member Jo Ann Anderson jumped at the opportunity to invite her granddaughter, Natalie Anderson, who makes purses and fleece tie blankets. Together, they manned a table in the craft vendor tent.
Many local businesses donated items to the silent auction and helped run the game booths for the festival. Some of the local businesses that contributed to the night's success were Greenville Symphony, Gary Hester Interiors, Closets Plus, Binswanger Glass, Jennings Medcare LLC, Raymond James, Custom Images, SureTrans EMS, Prudential Real Estate, Thorne Ambulance Service, Amedisys Hospice, Hickerson Landscapes, Bright Star and BeWell.
Cascades Verdae, a Continuing Care Retirement Community, avidly supports advancements in Azheimer's care and treatment. They have won three consecutive Assisted Living Federation of America's Best of the Best Awards, including one for their W.A.V.E.S. Program. WAVES is an aquatics program which combines low-impact, aerobic exercise with the therapeutic benefits of warm water to help alleviate symptoms associated with Alzheimer's disease and dementia. In addition, WAVES strengthens relationships between residents and caregivers as each is required to build confidence and trust in the other to participate in the aquatic exercises.
Cascades Verdae looks forward to hosting their 2nd Annual Fall Festival next year.
About Cascades Verdae
Located on 40 wooded acres in Greenville, S.C., Cascades Verdae is South Carolina's largest CCRC. The community's care-free lifestyle helps members live longer, healthier and happier lives by offering an array of amenities including maintenance-free living, daily fine dining, weekly housekeeping, a nationally recognized wellness program and continuing-care health services. Members can choose from a variety of floor plans including single-family cottage homes and condominium-style villas. Assisted-living, Alzheimer's care and skilled-nursing rooms are also available for those who need to make a transition from independent living. More information about Cascades Verdae is located at http://www.thecascadesverdae.com.