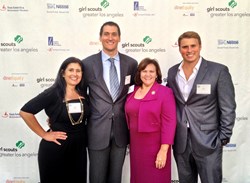 It's always an honor being published in Forbes with people you grow up admiring and studying. Men like Ralph Lauren and Donald Trump are amongst some of the greatest living American Entrepreneurs that I've learned from.-Steve Gatena of REP Interactive
Los Angeles, Ca (PRWEB) October 28, 2013
Forbes Magazine has listed Steve Gatena (son) and Judy Gatena (Mother) of the Best Video Production Company, REP Interactive, on their list of top 10 Most Famous Entrepreneur Families. Other prestigious families on the list include the Lauren family and the Trump family. Specifically mentioned is Ralph Lauren, for his esteemed company Polo Ralph Lauren, along with his daughter Dylan Lauren, for her retail sweets business Dylan's Candy Bar.
Forbes author David K Williams mentions in his article that, "each of these entrepreneurial families provides lessons that can influence us all." In which, he also discusses the success of Donald and Ivanka Trump for their growth of the Trump Organization and outstanding success with their hit TV show Celebrity Apprentice.
Another standout parent child team mentioned along with Steve and Judy Gatena include the partner of Vidal Sassoon, Tom Yeardye and his daughter Tamara Mellon co-founder of Jimmy Choo.
"It's always an honor being published in Forbes with people you grow up admiring and studying. Men like Ralph Lauren and Donald Trump are amongst some of the greatest living American Entrepreneurs that I've learned from" Steve Gatena, CEO of REP Interactive.
This article begs the question of whether or not children of successful people attempt to follow in their parents footsteps. This topic is extensively covered by author Malcolm Gladwell in his recent book David and Goliath: Underdogs, Misfits, and the Art of Battling Giants. Gladwell argues that challenges early in life actually provide individuals with an added advantage, providing motivation for success.
On the topic of his upbringing Steve said, "achieving success is difficult at any level no matter who you are or where you are from. In my case, I was lucky to have been raised by two great people. It definitely gives me an advantage. As a kid I watched my mother build a flourishing business from scratch. Her effort, along with the support of my father and my grand parents allowed my family to transition through multiple socio-economic barriers. During the first part of my childhood, we relied on California's Welfare program and lived in Public Housing. By the time I was a teenager my parents owned a primary residence in Thousand Oaks, California and a vacation home in Park City, Utah. I watched my mom build the American Dream.
"When you have a strong female role model who doesn't believe in or even acknowledge barriers, it establishes a high standard for what you expect from yourself and what you believe is possible. My mom definitely shaped me but I've learned a great deal from my father as well. Anyone who works with him will tell you that my dad Gary is a very hardworking and well-respected man of great character. My dad is a Los Angeles City Fire Fighter, a real American Hero. Growing up he showed me how to persevere through mental and physical pain, he taught me how to think long term helping me set 5 and 10 year goals, and most of all he gave me a strong sense of right and wrong. The influence my parents have had on me is everything, they are where I am from and what I am. Being mentioned in Forbes for our family's success, along with some of the most prestigious families in the United States is a great compliment." Steve Gatena, CEO, REP Interactive.
Forbes is an American business magazine. Published biweekly, it features original articles on finance, industry, investing, and marketing topics. Forbes also reports on related subjects such as technology, communications, science, and law. Its headquarters are in New York City. The magazine is well known for its lists and rankings, including its lists of the richest Americans and rankings of world's top companies. The motto of Forbes magazine is "The Capitalist Tool". Its editor-in-chief is Steve Forbes and its CEO is Mike Perlis.
Steve Gatena is the CEO of REP Interactive. Fortune 500 Companies trust REP Interactive to produce Video & Broadcast Media solutions for their businesses. REP Interactive is the premiere video agency of choice for companies looking to create video assets that increase revenue, decrease expenses, and achieve communication goals. REP Interactive also provides crisis communication support for public relations departments needing media teams during special situations.
To find out more about REP Interactive visit http://www.repinteractive.com
About REP Interactive
REP Interactive is an award winning Video & Broadcast Media Agency. REP Interactive strengthens corporate communication by producing video & broadcast media solutions that increase revenue, decrease expenses, and achieve business goals. Since 2009, clients like Coldwell Banker, Marriott Hotels, and GE Healthcare have relied on REP Interactive for their ability to create innovative solutions to corporate communication problems. At REP Interactive, their experience creating online content, broadcast television commercials, and mobile media solutions prove to be an invaluable asset to clients looking for the best in corporate media.
Please contact Chris Carter, REP Interactive for inquiries: Chris (at) repinteractive (dot) com or call 888-789-1299.