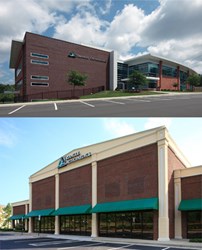 Durham, NC (PRWEB) October 30, 2013
Triangle Orthopaedics currently has seven rehab medicine specialists covering the Raleigh, Durham, Chapel Hill, Wake Forest, Clayton, Oxford, and Roxboro areas. Now, for the first time, TOA will have board certified physical medicine and rehabilitation physicians serving at their Southpoint and Apex offices.
Catherine Duncan, D.O. is currently working as a specialist in Physical Medicine and Rehabilitation, or Physiatrist, at Triangle Orthopaedic Associates in Apex, specializing in interventional spine procedures. She performs fluoroscopic guided procedures, ultrasound guided procedures, Botox injections, sodium hyaluronate (Eflexxa) injections, prolotherapy, and electromyography/nerve conduction studies. Dr. Duncan joined Triangle Orthopaedics in August of this year.
Robert Wilson, M.D. also specializes in physical medicine and rehabilitation with an emphasis on non-surgical evaluation and treatment of painful spinal conditions. He has had extensive training in both the medical evaluation and management of painful spinal conditions and interventional pain treatment. Dr. Wilson has been with Triangle Orthopaedics for almost 20 years practicing primarily at the main office in North Durham and now has the opportunity to practice at the Southpoint Durham office.
Rehabilitation physicians are medical doctors who have completed training in the medical specialty of physical medicine and rehabilitation. The job of a rehabilitation physician is to treat any disability resulting from disease or injury, from sore shoulders to spinal cord injuries. The focus is on the development of a comprehensive program for putting the pieces of a person's life back together after injury or disease – without surgery.
About Triangle Orthopaedic Associates, P.A.:
Since 1952, Triangle Orthopaedics has been treating an array of conditions from sports related injuries to joint replacements. Our rehabilitation centers afford thorough guidance to patients during the recovery process. Today, we have 16 locations across the greater Triangle region, including six Urgent Care clinics located in Apex, Chapel Hill, Durham, Raleigh, Wake Forest, and Wilson. With over 50 physicians, six MRI locations and numerous physical therapy facilities, you can count on us. Also, our Orthopaedic, Rehab Medicine, Rheumatology and Surgical Specialists Departments have got you covered. For more information on Triangle Orthopaedic Associates, P.A., please visit: http://www.triangleortho.com.