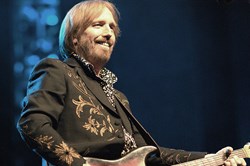 (PRWEB) October 28, 2013
In this guitar lesson, now available on YouTube.com, Claude Johnson teaches how to play "Learning to Fly" by Tom Petty. TAB's for this lesson are available at GuitarControl.com.
In today's rhythm guitar lesson, Claude teaches using four simple chords how to play "Learning to Fly" by Tom Petty from the DVD course Ultimate Guitar Song Collection, also available at GuitarControl.com. Claude teaches the four simple chords used in this song which are, F major, C major, A minor, and G major. "These are chords you should know," says Johnson, if not you can check them out at UltimateBeginnerGuitar.com. Claude explains that the strumming pattern is made up of eighth notes (1 as a down stroke, the & of 1 as an upstroke, 2 as a down stroke, the & of 2 as an upstroke) the & of 2 is tied to the 3 (a tied note rings out for the duration of the note, so the & of 2 tied to the 3 rings for the duration of a quarter note), and then finally an upstroke on the & of 3 and a down stroke on the 4 and finishes with an upstroke on the & of 4. Johnson explains that the rhythm of the song is the same on the verse and the chorus and that the vocal melody is what changes to show the difference between the two.
Tom Petty, a native of Gainesville Florida, is a singer songwriter who most is known for fronting The Heartbreakers. His music career has span over 40 years and he has sold over 60 million albums world wide and still sells out arenas to this day. He has operated under the pseudonyms Charlie T. Wilbury Jr. and Muddy Wilbury and has collaborated with such acts as The Traveling Wilbury's, Mudcrutch, Stevie Nicks, Bob Dylan, and George Harrison to name a few. In 2002 he was inducted into the Rock and Roll Hall of Fame.
Claude Johnson
Claude Johnson, a native of Philadelphia PA, began playing guitar in 1990 after being inspired by players like Jimi Hendrix, Eric Clapton, and Stevie Ray Vaughn. He is the creator of GuitarControl.com and has helped 1000's of people to learn to play the guitar with his critically acclaimed instructional DVD courses, all available at GuitarControl.com.
About GuitarControl.com
GuitarControl.com is the leader in modern guitar instruction. It's packed with recourses including articles, video lessons, and the best videos in the business for the beginner to the advanced guitar student taught by the best instructors out there. Whether you are into the blues, rock, jazz, metal, folk, or anything in between, they have you covered.