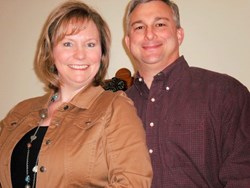 Denton County, TX (PRWEB) October 31, 2013
Stuart Mason is thrilled to be back in his hometown helping his neighbors with his new business, Caring Transitions of Denton.
Caring Transitions specializes in customized transition and relocation planning. Services include relocation planning and packing, new home settlement, full or partial liquidations, house cleanout and sorting, preparing houses for sale, working with home maintenance and repair partners, and other transition services.
Mason decided to open his own Caring Transitions franchise after spending more than a year helping family members with living and estate transitions after moving back to Denton, where he and his wife, Michele, grew up.
"Trying to help a family member move or clearing out a home after a family member passes on can be a lot of work, and there wasn't a single source we could turn to for help. It's heartbreaking, time-consuming and stressful. When I learned about Caring Transitions, I knew it would be a perfect start-to-finish solution for other families going through similar experiences," Mason said. "Caring Transitions provides genuinely needed services, and it allows me to create jobs for good people who love helping others."
When Mason isn't working with Caring Transitions, he and his wife are smoking ribs for their friends and family, helping elderly neighbors with household needs, or in Bible study at Denton Bible Church. He's looking forward to spending his days making a difference in the lives of people throughout Denton County.
"We want people to know that we're here to help with those difficult transitions and estate challenges. Even if we're not the answer to someone's troubles, we'll point them in the right direction. Our goal is to hear 'Thank you' from everyone we work with," he said.
Caring Transitions of Denton serves most of Denton County including Denton, Lewisville, Flower Mound, Southlake, Argyle, Corinth and the surrounding areas. For more about how Stuart can help you or your family with a transition, contact him at (940) 600-5595 or smason(at)CaringTransitions(dot)net. Visit http://www.EstateMoveDenton.com for additional information.
About Caring Transitions
Founded in 2006, Caring Transitions has been a trusted and highly respected national company leading the way in senior moving, household liquidations and estate sales management in dozens of cities across the United States. Caring Transitions is part of the International Franchise Association, the Small Business Association's Franchise Registry, VetFran and Minority Fran. For more information call 1-800-647-0766 or visit http://www.caringtransitions.com.