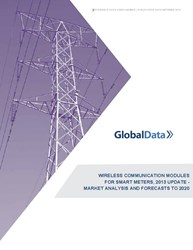 Rockville, MD (PRWEB) October 29, 2013
Wireless Communication Modules for Smart Meters, 2013 Update - Market Analysis and Forecasts to 2020
The global market for cellular communication modules for smart meters is expected to grow gradually between 2013 and 2020. It will be driven by an increase in smart meter deployments around the world.
Cellular and Radio Frequency (RF) communication modules are the two key wireless communication modules used in smart meters for two-way data transmission. The global market for smart meter communication modules is in the early growth phase with different segments of the market expected to grow at varied pace. Currently North America forms a major market for wireless communication as 85% of the smart meters installed in the region use wireless communication technology for transmitting the data to the utility center.
The global market for wireless communication modules for smart meters recorded annual revenue of $532m, in 2012. Its annual revenue is expected to increase to $1.312 billion, by 2020, as a result of the deployment of smart meters in North America, the UK and Japan. The preference for wireless communication modules over wired technology is due to their low cost and secured network. These factors will continue to drive the market's global revenue.
North America dominates the global market for wireless communication modules for smart meters, contributing a large proportion of the market's global revenue. The North American market will grow steadily through to 2020, supported by smart meter deployments. Its annual revenue, in 2012, was $379m. It is estimated to reach $433.7m in 2020.
To order this report:
http:// Wireless Communication Modules for Smart Meters, 2013 Update - Market Analysis and Forecasts to 2020
Contact: Shauna
800.298.5699
Customerservice(at)marketresearch(dot)com
GlobalData
GlobalData is the premier source of actionable insight into the energy and healthcare industries. With the combined expertise of more than 1,000 researchers, market analysts and consultants, we provide high-quality, accurate and transparent industry insight that helps our clients to achieve growth and increase business value.
About MarketResearch.com
MarketResearch.com is the leading provider of global market intelligence products and services. With research reports from more than 720 top consulting and advisory firms, MarketResearch.com offers instant online access to the world's most extensive database of expert insights on global industries, companies, products, and trends. Moreover, MarketResearch.com's Research Specialists have in-depth knowledge of the publishers and the various types of reports in their respective industries and are ready to provide research assistance. For more information, call Cindy Frei at 240.747.3014 or visit http://www.marketresearch.com
Follow us on Facebook http://www.facebook.com/marketresearchdotcom
Follow us on Twitter http://www.twitter.com/marketresearch_
Wireless Communication Modules for Smart Meters, 2013 Update - Market Analysis and Forecasts to 2020 – Table of Contents:
1 Table of Contents
2 Introduction
3 Wireless Communication Modules for Smart Meters, Overview of Global Market
3.1 Wireless Communication Modules for Smart Meters, Global Market, Revenue, 2009-2020
3.1.1 Cellular Communication Modules for Smart Meters
3.1.2 Radio Frequency Communication Modules for Smart Meters
3.2 Wireless Communication Modules for Smart Meters, Global Market, Annual Sales Volume, 2009-2020
3.2.1 Cellular Communication Modules for Smart Meters
3.2.2 Radio Frequency Communication Modules for Smart Meters
3.3 Wireless Communication Modules for Smart Meters, Global Market, Average Price, 2009-2020
3.3.1 Cellular Communication Modules for Smart Meters
3.3.2 Radio Frequency Communication Modules for Smart Meters
3.4 Wireless Communication Modules for Smart Meters, Global Market, Key Drivers Impact Analysis, 2013
3.4.1 Cellular Communication Modules for Smart Meters
3.4.2 Radio Frequency Communication Technology
3.5 Wireless Communication Modules for Smart Meters, Global Market, Key Restraints Impact Analysis, 2013
3.5.1 Cellular Communication Technology
3.5.2 Radio Frequency Communication Technology
4 Wireless Communication Modules for Smart Meters, Overview of US Market
5 Wireless Communication Modules for Smart Meters, Overview of Canada Market
6 Wireless Communication Modules for Smart Meters, Overview of UK Market
7 Wireless Communication Modules for Smart Meters, Overview of Denmark Market
8 Wireless Communication Modules for Smart Meters, Overview of Ireland Market
9 Wireless Communication Modules for Smart Meters, Overview of Australia Market
10 Wireless Communication Modules for Smart Meters, Overview of Japan Market
11 Wireless Communication Technology for Smart Meters, Brief
12 Appendix