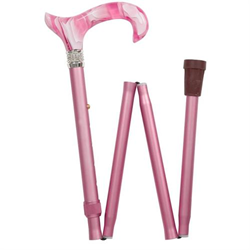 Orlando, Florida (PRWEB) October 28, 2013
Walking-Canes.Net has received the new styles for 2014 from manufacturers around the world. The trendy new walking canes come from England, Scotland, France and Italy.
World class manufacturers have created an extensive selection of the most fashionable canes in the world for 2014.
Take a look at the new Fashionable Folding Canes, which are made from lightweight aluminum and feature beautiful designs of art on the shaft and handles. The ladies, as well as the men, love the portability of the folding canes and how easy it is to have a variety of colors and styles to meet the everyday wardrobe.
The collection of natural wood products from England's top manufacturer is now in stock and the Blackthorn Walking Canes and the Blackthorn Shillelagh are some of the best in the world. Take a look at the collection of Blackthorn products.
The Gentlemen Canes are featured as well as the Ladies Walking Canes. The styles for 2014 are clean but elegant. Knob Stick walking canes are becoming very popular again and has become known as the distinguished look. If height is an issue and the user requires a taller cane then the Extra Tall walking canes may be the answer. The taller canes come in heights up to forty four inches.
Over the last few years the Petite Handle Canes have helped many people who have the smaller hands. The Petite Canes are available in many colors and styles and the fold up to fit nicely in your purse.
Offset Walking Canes have come a long ways in fashion over the last few years. This year the offset canes offer a wider variety of color and style than ever before. The new styles are the exciting.
Please call the customer service number 1-888-928-1774 for any questions or help in placing an order. The walking canes normally ship next day from date of the order.