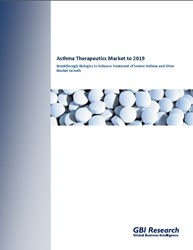 Rockville, MD (PRWEB) October 30, 2013
Asthma Therapeutics Market to 2019
The asthma market is forecast to grow marginally to 2019 across the leading eight developed nations, from $16.6 billion in 2012 to a projected value of $21.6 billion in 2019. This growth is expected despite the generic erosion facing the leading brands, and is a consequence of new market entrants and a disease prevalence that continues to rise, albeit not at rates as high as have been seen in the past. Some new, costly asthma therapies could be set to enter the asthma market, including GlaxoSmithKline's recently approved Relvar and multiple monoclonal antibodies.
These include reslizumab, mepolizumab and lebrikizumab, which are being developed by Teva, GSK and Roche respectively. The mAbs, in particular, have the potential to change the asthma treatment landscape, most notably with regards to severe forms of the disease.
However, the asthma market will be hit by the growth of generic drug sales, as well as by both recent patent expirations and patents due to expire over the next couple of years. Additionally, there are various unknowns about the condition, which have created difficulties for pharmaceutical companies hoping to develop therapies targeted at specific molecular types or clinical symptoms of the disease.
"Despite the pathophysiology of asthma being well described, there remains a limited understanding of the specific interactions that occur between inflammatory cells and mediators that bring about specific clinical manifestations of the disease. Indeed, the exact cause or causes of the disease remain unknown, and are the subject of much ongoing research," concludes Yasser Mushtaq, GBI Research's Associate Analyst.
To order this report: Asthma Therapeutics Market to 2019.
Contact: Shauna
800.298.5699
Customerservice(at)marketresearch(dot)com
GBI Research
GBI Research provides industry-leading global business intelligence solutions. Our products and services help companies make better business decisions, win business and position themselves more effectively. GBI Research publishes more than 100 research reports per annum across a wide range of industries. Our reports draw on in-depth primary and secondary research, databases of proprietary in-house data and high quality analysis from our expert teams. GBI Research employs hundreds of highly qualified Analysts across the US, Europe and Asia.
About MarketResearch.com
MarketResearch.com is the leading provider of global market intelligence products and services. With research reports from more than 720 top consulting and advisory firms, MarketResearch.com offers instant online access to the world's most extensive database of expert insights on global industries, companies, products, and trends. Moreover, MarketResearch.com's Research Specialists have in-depth knowledge of the publishers and the various types of reports in their respective industries and are ready to provide research assistance. For more information, call Cindy Frei at 240.747.3014 or visit http://www.marketresearch.com.
Follow us on Facebook http://www.facebook.com/marketresearchdotcom.
Follow us on Twitter http://www.twitter.com/marketresearch_.
Asthma Therapeutics Market to 2019 – Table of Contents:
1 Table of Contents
2 Introduction
3 Marketed Products
4 Asthma Pipeline
4.1 Overview
4.2 Mechanisms of Action in the Pipeline
4.3 Clinical Trials
4.3.1 Failure Rate
4.3.2 Clinical Trial Duration
4.3.3 Clinical Trial Size
4.3.4 Comparative Clinical Trial Metrics Analysis
4.4 Promising Pipeline Molecules
4.4.1 Reslizumab – Teva Pharmaceutical ltd
4.4.2 Mepolizumab - GlaxoSmithKline
4.4.3 Lebrikizumab – Roche/Genentech
4.4.4 Veramyst - GlaxoSmithKline
4.4.5 Andolast – Rottapharm Madaus
4.4.6 Spiriva (Tiotropium Bromide) – Boehringer Ingelheim
4.5 Heat Map of Safety and Efficacy for Pipeline and Marketed Products
5 Market Forecast to 2019
6 Strategic Consolidations
7 Appendix