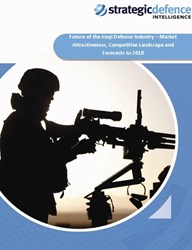 (PRWEB) October 31, 2013
Future of the Iraqi Defense Industry - Market Attractiveness, Competitive Landscape and Forecasts to 2018
Following the end of Operation Iraqi Freedom, Iraq is undergoing a significant period of national reconstruction that will see its defence expenditure rise at a CAGR of 8.68% over the next five years. Despite this being a slower rate of growth than the CAGR of 15.56% exhibited between 2009 and 2013, Iraq's defense market is still set to reach a value of US$26.2 billion by 2018 – growth primarily driven by the predicted growth of the country's economy thanks to its strong oil reserves.
Faced with the daunting task of rebuilding its military force in the post-war period, Iraq is focusing on enhancing its strike force and defense capabilities. The MoD's emphasis on obtaining much needed military hardware makes the country an attractive defense market, currently valued at US$17.1 billion.
The country's defense & security budget witnessed a substantial increase during the review period and is expected to continue to grow at a healthy rate of 8.68% over next five years. To achieve its purpose of military reform, the country is expected to allocate an average of 7.3% of its total GDP towards defense expenditure, and allocate a higher share of 21.2% for capital expenditure over the forecast period.
Iraq's plans for enhancing its air and ground defense capabilities are projected to create ample opportunities for foreign equipment suppliers, especially in the areas of fighter aircraft, attack helicopters, tanks, tactical trucks, missiles, radars, communication systems, and UAVs among others. An under developed domestic defense industry, the allowance of foreign direct investment, and high spending power of buyers boost the attractiveness of the Iraqi defense market for new entrants.
The Future of the Iraqi Defense Industry – Market Attractiveness, Competitive Landscape, and Forecasts to 2018 provides detailed analysis of the current industry size and growth expectations from 2014 to 2018, including highlights of key growth stimulators. It also benchmarks the industry against key global markets and provides a detailed understanding of emerging opportunities in specific areas.
To order this report:
Future of the Iraqi Defense Industry - Market Attractiveness, Competitive Landscape and Forecasts to 2018
Contact: Shauna
800.298.5699
Customerservice(at)marketresearch(dot)com
Strategic Defence Intelligence
Strategic Defence Intelligence provides a stream of continuously updated customer and competitor intelligence, as well as detailed research reports providing an unrivalled source of global information on the latest developments in the defence industry. Strategic Defence Intelligence's unique monitoring platform tracks global defence activity for over 2,500 companies and 65 product categories in real time and in a highly structured manner, giving a comprehensive and easily-searchable picture of all defence industry activity.
About MarketResearch.com
MarketResearch.com is the leading provider of global market intelligence products and services. With research reports from more than 720 top consulting and advisory firms, MarketResearch.com offers instant online access to the world's most extensive database of expert insights on global industries, companies, products, and trends. Moreover, MarketResearch.com's Research Specialists have in-depth knowledge of the publishers and the various types of reports in their respective industries and are ready to provide research assistance. For more information, call Cindy Frei at 240.747.3014 or visit http://www.marketresearch.com.
Follow us on Facebook http://www.facebook.com/marketresearchdotcom
Follow us on Twitter http://www.twitter.com/marketresearch_
Future of the Iraqi Defense Industry - Market Attractiveness, Competitive Landscape and Forecasts to 2018 – Table of Contents:
1 Introduction
2 Executive Summary
3 Market Attractiveness and Emerging Opportunities
3.1. Defense Market Size Historical and Forecast
3.1.1. Defense expenditure expected to grow at a CAGR of 8.68% over the forecast period
3.1.2. Capacity building and regional turmoil are expected to be the key factors driving defense expenditure
3.1.3. Iraq to allocate 7.3% of its GDP towards military expenditure
3.2. Analysis of Defense Budget Allocation
3.2.1. Capital expenditure allocation to average 21% of the total budget over the forecast period
3.2.2. Military modernization drives defense capital expenditure
3.2.3. Per capita defense expenditure expected to increase over the forecast period
3.3. Homeland Security Market Size and Forecast
3.3.1. Fighting terrorism, controlling sectarian violence, and oil infrastructure protection will be the key factors driving homeland security
3.3.2. Iraq considered at 'worst affected' of terrorist attack
3.4. Benchmarking with Key Global Markets
3.4.1. Iraq to be among the fastest-growing defense spenders
3.4.2. Iraq second only to Saudi Arabia among the leading military spenders in terms of defense expenditure as a percentage of GDP
3.4.3. Iraq faces highest risk of terror attacks
3.5. Market Opportunities: Key Trends and Drivers
3.5.1. Fighters & Multi-Role Aircraft
3.5.2. Main Battle Tanks
3.5.3. Integrated Air Defense Systems
3.5.4. Attack Helicopters
4 Defense Procurement Market Dynamics
5 Industry Dynamics
6 Market Entry Strategy
7 Competitive Landscape and Strategic Insights
8 Business Environment and Country Risk
9 Appendix