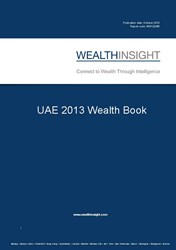 Rockville, MD (PRWEB) November 01, 2013
UAE 2013 Wealth Book
At the end of 2012, there were approximately 48,300 HNWIs in the UAE, accounting for US$182 billion in wealth which equated to 41% of total individual wealth held in the country. Local HNWIs slightly underperformed the worldwide HNWI average between 2008 and 2012, declining by 8% whilst worldwide HNWI volumes declined by 0.3%. Local wealth was negatively influenced by significant decreases in local equity and local property indices. In 2012, UAE HNWI numbers rose by 13.9%, following a fall of 1.4% in 2011. HNWI wealth and volume growth is expected to improve substantially over the next five years. The total number of local HNWIs is forecast to grow by 43%, to reach over 69,000 in 2017. HNWI wealth will see an even larger percentage increase, growing by 48% to reach US$269 billion in 2017.
At the end of 2012, real estate was the largest asset class for HNWIs in the UAE, accounting for 23.2% of total HNWI assets. This was followed by cash with 20.7% equities with 20.4%, business interests with 20.0%, alternatives with 12.0% and fixed income products with 3.8%. Cash products recorded the strongest growth over the last five years, driven by a movement to safer assets during the financial crisis.
Over the next five years, equities are expected to be the top-performing asset class for HNWIs, followed by business interest and then real estate. Cash will be the worst performing asset class. As a result, there will be a movement away from cash and towards equities. Collectables accounted for 1.2% of the total assets of local HNWIs at the end of 2012 which amounts to US$2.1 billion in HNWI assets and US$360 million worth of fine art. Research showed the, at the end of 2012, 29% of UAE HNWIs had second homes abroad, most of which were in London. At the same time, HNWI liquid assets amounted to US$49 billion, representing 26.9% of the wealth holdings of local HNWIs. Investment funds (held by asset managers and wealth managers) accounted for US$50 billion of HNWI assets in 2012, equating to 27.3% of HNWI wealth in 2012.
To order this report: UAE 2013 Wealth Book.
Contact: Shauna
800.298.5699
Customerservice(at)marketresearch(dot)com
WealthInsight
WealthInsight provides detailed data and insightful analysis on the global wealth sector. With decades of experience providing business information, we help organizations in the wealth industry make informed decisions, position themselves more effectively and uncover and capitalize on opportunities to win new business.
At the core of WealthInsight is our proprietary HNWI database of the world's wealthiest individuals. Your business can utilise this database to identify which wealthy individuals to reach out to. You can use our reports and briefings to analyse where the greatest opportunities lie.
About MarketResearch.com
MarketResearch.com is the leading provider of global market intelligence products and services. With research reports from more than 720 top consulting and advisory firms, MarketResearch.com offers instant online access to the world's most extensive database of expert insights on global industries, companies, products, and trends. Moreover, MarketResearch.com's Research Specialists have in-depth knowledge of the publishers and the various types of reports in their respective industries and are ready to provide research assistance. For more information, call Cindy Frei at 240.747.3014 or visit http://www.marketresearch.com.
Follow us on Facebook http://www.facebook.com/marketresearchdotcom.
Follow us on Twitter http://www.twitter.com/marketresearch_.
UAE 2013 Wealth Book – Table of Contents:
1 Introduction
2 Executive Summary
3 Wealth Sector Fundamentals
4 Findings from the WealthInsight HNWI Database
5 Analysis of UAE HNWI Investments
5.1 Analysis by Asset Classes
5.1.1 Trends in alternative assets
5.1.2 Trends in "art, wine and wheels"
5.1.3 Trends of investments in real estate
5.1.4 Trends of investments in cash and deposits
5.1.5 Trends of investments in fixed income
5.1.6 Trends of investments in equity
5.1.7 Trends of investments in business interests
5.2 Analysis of Foreign Investments
5.2.1 Investments in Europe
5.2.2 Investments in the rest of the Middle East (including Turkey and Egypt)
5.2.3 Investments in Asia-Pacific
5.3 Alternative Breakdown: Liquid vs. Investable Assets
5.4 Analysis of Local UHNWI Investments
6 Competitive Landscape of the Wealth Sector
7 Appendix