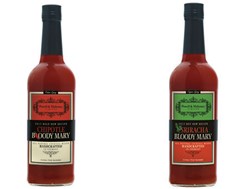 "The new Bloodys are just the tip of the iceberg! People expect more in this category and we are eager to fill that demand with uncompromising products!" - Brian Powell
Salem, MA (PRWEB) October 29, 2013
With a keen focus on redefining the cocktail experience at home, Powell & Mahoney has launched two new uniquely spicy flavors: Sriracha Bloody Mary & Chipotle Bloody Mary. Along with their current range of handcrafted, all-natural cocktail solutions, these flavor-packed mixers fortify Powell & Mahoney's position as the category's preeminent cocktail innovator.
Powell & Mahoney Sriracha & Chipotle now form a triumvirate of Bloody Mary offerings - along with their incredibly popular Original Bloody Mary Recipe -which will give consumers a choice of BOLD, BOLDER & BOLDEST flavors. Staying true to their commitment to small batch quality, the Sriracha and Chipotle mixers are thoughtfully made up of hand-selected pepper varieties to create a balanced heat profile. In addition, all three Bloody Mary mixers are gluten-free, vegan, and contain ½ the sodium of other leading brands! What's more, the product retails $6.99 in the East and $7.99 in the West, thereby allowing at-home consumers to craft better-than restaurant-quality cocktails at a fraction of the bar or restaurant price.
Brian Powell, one of the company's Founders commented on the new flavors and the vision for the category: "the lack of vision and creativity in this space is what drew Mark Mahoney and I to the business. The idea that people were now choosing fine wine and craft beer over the basics spawned our company. We decided to control every aspect of the supply chain and MAKE IT OURSELVES. We carefully hand-selected all of the ingredients and developed the recipes (along with Master Mixologist, Tad Carducci) to craft the finest offerings in the category! We make them in small batches to insure freshness and produce all of our products at our plant in Williston, VT. In effect, we have created a new category within a category - Craft Cocktail Mixers- and we have had incredible success with our selected retail partners. The new Bloodys are just the tip of the iceberg! People expect more in this category and we are eager to fill that demand with uncompromising products!"
The Sriracha Bloody Mary and Chipotle Bloody Mary were released in October, and are now available for ordering at http://www.powellandmahoney.com. They can also be found at finer Natural Foods and Grocery chains such as Whole Foods, Wegman's, New Seasons, HEB, Central Market, Lund Beyerly's along with premier liquor chains such as Total Wine & More and BevMo.