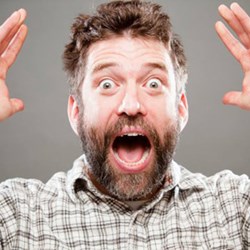 Reactions are priceless! I can't believe someone hadn't come up with this already.
Virginia Beach, VA (PRWEB) October 30, 2013
Reactr is an exciting, inspiring new social camera-based application now available for iOS and Android. Take pictures, share them with friends, and witness their reactions in real time! Capture the moments that matter – in the moment. The next SnapChat style app is here!
Take a picture. Send it to a friend. Same old, same old – so what makes Reactr different? When that friend opens the Reactr app to view the picture, the app automatically takes a picture of their reaction – which they have the option to share with that friend.
Currently the app supports photographs only, but the creators plan on adding video functionality once the app takes off.
Reactr is completely non-invasive. Although it automatically captures the receiver's reaction, the picture is not automatically sent back to the sender in response. The receiver decides whether they want to send their reaction shot to the original sender or not. They also choose who they are friends with in the first place, so there need be no unwanted pictures from unknown people at all.
Like SnapChat, picture messages do not stay active forever. However, with Reactr, messages destruct after 7 days, not 7 seconds. That's more time to savour the moment.
And unlike SnapChat, users have the ability to save images sent and received, so certain select memories can stay with them forever. It is like an instant, constantly updated photo album. It makes sharing pictures between family and friends friendly and easy. No exchanging of USB sticks, no searching for SD card readers. Friend to friend, from device to device: it just works. Simple as that.
Reactr is fast-paced, instant memory making. Just add friends!
Act, React, Capture. All with Reactr.