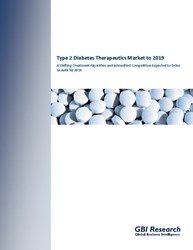 Rockville, MD (PRWEB) October 31, 2013
Type 2 Diabetes Therapeutics Market to 2019 - A Shifting Treatment Algorithm and Intensified Competition Expected to Drive Growth by 2019
The global type 2 diabetes market is expected to grow from $20.4 billion in 2012 to $38.8 billion by 2019, at a CAGR of 10.2%. The US currently has the highest market share, which will rise from $12.7 billion in 2012 to $27.2 billion by 2019, at a CAGR of 11.6%. The top five EU markets (the UK, France, Germany, Italy and Spain), will grow from $4.5 billion to $7.1 billion, at a CAGR of 6.8%. This increase is due to the anticipated approval of products in relatively novel treatment classes, such as GLP-1 agonists, DPP-4 and SGLT-2 inhibitors. Should these expensive drug classes capture substantial market shares, this would be expected to result in an even more robust level of market growth. Furthermore, due to the increase in the number of obesity cases and with people living longer, the prevalence of type 2 diabetes is also expected to rise.
Dominic Trewartha, GBI Research's Associate Analyst, says: "The strong forecast for the type 2 diabetes market is reliant upon the ability of late-stage pipeline drugs, such as gemigliptin, to reach expectations created by promising clinical trial results, and of newly marketed products, including Nesina and Tradjenta, to capture a significant share of the market. In order to do this, they will need to balance clinical efficacy with safety and tolerability profiles."
However, the sulfonylureas and metformin classes, both widely used among type 2 diabetes patients, are strongly penetrated by generic and low-cost products, presenting a potential major barrier to the market.
GBI Research's report "Type 2 Diabetes Market to 2019 - A Shifting Treatment Algorithm and Intensified Competition Expected to Drive Growth by 2019" provides an in-depth analysis of major glucose-lowering drugs for type 2 diabetes, including analyses of their safety, efficacy, treatment patterns, strengths/weaknesses, and overall commercial prospects. It includes a heat map comparing major drugs in terms of safety, efficacy and dosing parameters. This report was built using data and information sourced from proprietary databases, primary and secondary research, and in-house analysis conducted by GBI Research's team of industry experts.
To order this report:
Type 2 Diabetes Therapeutics Market to 2019 - A Shifting Treatment Algorithm and Intensified Competition Expected to Drive Growth by 2019
Contact: Shauna
800.298.5699
Customerservice(at)marketresearch(dot)com
GBI Research
GBI Research provides industry-leading global business intelligence solutions. Our products and services help companies make better business decisions, win business and position themselves more effectively. GBI Research publishes more than 100 research reports per annum across a wide range of industries. Our reports draw on in-depth primary and secondary research, databases of proprietary in-house data and high quality analysis from our expert teams. GBI Research employs hundreds of highly qualified Analysts across the US, Europe and Asia.
About MarketResearch.com
MarketResearch.com is the leading provider of global market intelligence products and services. With research reports from more than 720 top consulting and advisory firms, MarketResearch.com offers instant online access to the world's most extensive database of expert insights on global industries, companies, products, and trends. Moreover, MarketResearch.com's Research Specialists have in-depth knowledge of the publishers and the various types of reports in their respective industries and are ready to provide research assistance. For more information, call Cindy Frei at 240.747.3014 or visit http://www.marketresearch.com.
Follow us on Facebook: http://www.facebook.com/marketresearchdotcom
Follow us on Twitter: http://www.twitter.com/marketresearch_
Type 2 Diabetes Therapeutics Market to 2019 - A Shifting Treatment Algorithm and Intensified Competition Expected to Drive Growth by 2019 – Table of Contents:
1 Table of Contents
2 Introduction
3 Key Marketed Products
4 Pipeline for Type 2 Diabetes
5 Market Forecast to 2019
6 Deals and Strategic Consolidations
6.1 Licensing Deals
6.1.1 TransTech Pharma Enters into Licensing Agreement with Forest Laboratories
6.1.2 Xoma Enters into Licensing Agreement with Les Laboratoires Servier for Xoma 052
6.1.3 Zealand Pharma Enters into a Licensing and Collaboration Agreement with Boehringer Ingelheim
6.1.4 Exelixis Enters into Licensing Agreement with Bristol-Myers Squibb for XL475
6.1.5 Prosidion Limited Enters into a Licensing Agreement with Eli Lilly and Company
6.1.6 Metabolex Enters into Licensing Agreement with Sanofi
6.1.7 Wellstat Enters into a License Agreement with Sanofi
6.1.8 CureDM and Lankenau Institute Enter into a Licensing Agreement with Sanofi
6.1.9 Metabolex Enters into a Development and Licensing Agreement with Janssen Pharmaceuticals
6.1.10 Dainippon Sumitomo Pharma Enters into Licensing Agreement with Intercept Pharma for INT-747
6.1.11 Ipsen Enters into Licensing Agreement with F. Hoffmann-La Roche for BIM 51077
6.1.12 Glenmark Pharma Enters into Licensing Agreement with Merck KGaA
6.1.13 Euroscreen Enters into Licensing Agreement with Janssen Pharmaceuticals
6.1.14 Phenomix Enters into Licensing Agreement with Chiesi Farmaceutici
6.1.15 Otsuka Pharma Enters into Licensing Agreement with Kyowa Hakko Kirin for Saxagliptin
6.1.16 Nastech Pharma Enters into Licensing Agreement with Amylin Pharma
6.1.17 Emisphere Technologies Enters into a Licensing Agreement with Novo Nordisk
6.1.18 Array BioPharma Enters into a Licensing Agreement with Amgen
6.1.19 Theratechnologies Enters into a Licensing Agreement with OctoPlus
6.1.20 Diabetica Enters into a Licensing Agreement with Amylin
6.1.21 Celtic Therapeutics Enters into a Licensing Agreement with Bellus Health
6.1.22 Aradigm Enters into a Licensing Agreement with Novo Nordisk
6.1.23 Santarus Enters into a License Agreement with Shore Therapeutics
6.1.24 Depomed Enters into a Licensing Agreement with Boehringer Ingelheim
6.1.25 Depomed Enters into a Licensing Agreement with Merck
6.1.26 Depomed Enters into a Licensing Agreement with Teva
6.2 Co-development Deals
6.2.1 Eli Lilly Enters into a Co-development Agreement with Boehringer Ingelheim
6.2.2 AstraZeneca Enters into Co-development Agreement with Bristol-Myers Squibb
6.2.3 Metabolex Enters into a Co-development Agreement with Janssen Pharmaceuticals
6.2.4 Amylin Pharma Terminates Co-development Agreement with Eli Lilly for Exenatide
6.2.5 Isis Enters into a Collaboration Agreement with Janssen Pharmaceuticals
6.2.6 Neurocrine Biosciences Enters into a Collaboration Agreement with Boehringer Ingelheim
6.2.7 Intercept Pharma Enters into Co-development Agreement with Servier
6.2.8 Transition Therapeutics Enters into an Agreement with Eli Lilly
6.2.9 Ambrx Enters into a Co-Development Agreement with Bristol-Myers Squibb
6.2.10 Biocompatibles Enters into a Co-Development Agreement with AstraZeneca
7 Appendix