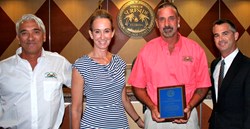 Dania Beach, FL (PRWEB) October 28, 2013
Anthony Napoleon, Irrigation Operations Director for Lukes-Sawgrass Landscape, a FirstService Residential company, received an award on October 8, 2013 from officials in the Town of Surfside for his initiative in providing a specialized water fountain for dogs at the community's Paws Up Dog Park.
The fountain's innovative design features a fire hydrant that allows dogs to activate the flow of water simply and easily by touching a sensor with their tongue.
"Luke Facarazzo (Director of Sales and Key Accounts for Lukes-Sawgrass Landscape) and I saw a need for one, so I decided to design and build a fountain for dogs of all sizes," said Napoleon. "The Town of Surfside is a long-time client of Lukes-Sawgrass, so it's only natural that we would try to not only beautify its parks, but make sure we serve every one of its residents!"
About Lukes-Sawgrass Landscape
Lukes-Sawgrass Landscape is a South Florida-based, full-service landscaping company whose service area encompasses much of the state of Florida. As a single-source provider for the landscaping needs of community associations, townships and cities, commercial properties and single family homes, Lukes-Sawgrass specializes in designing, building and maintaining a landscape setting to fits the individual needs of its clientele. For more information, visit http://www.lukessawgrass.com.
About FirstService Residential
FirstService Residential, previously known in Florida as The Continental Group, is a subsidiary of FirstService Corporation, a global leader in the rapidly growing real estate services sector, one of the largest markets in the world. As the largest residential property manager in North America, FirstService Residential oversees more than 6,000 properties and 1.5 million residential units across 21 U.S. states and three provinces in Canada. The company has more than 12,000 employees driving local market expertise and managing in excess of $6 billion in annual budgets. For more information, visit http://www.fsresidential.com.