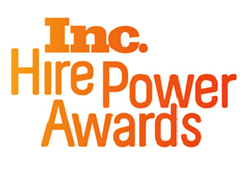 We're incredibly honored to be recognized by Inc. Magazine for contributing to Louisiana's job growth.
New Orleans, LA (PRWEB) October 29, 2013
New Orleans-based online marketing company Search Influence is featured in the second annual Inc. Hire Power Awards, recognizing private American businesses that have generated the most jobs in the past three years. Search Influence generated 20 jobs from January 1, 2012 to June 30, 2013, placing it among the top four private business job creators within the state of Louisiana.
Search Influence is among the 437 private growth companies that are Hire Power Award honorees, leading the way in creating more American jobs. Search Influence founders Will and Angie Scott started the company with just three employees shortly after Hurricane Katrina devastated New Orleans. Today, Search Influence has 55 full-time New Orleans-area employees in addition to its 25+ contract workers.
"We're incredibly honored to be recognized by Inc. Magazine for contributing to Louisiana's job growth," said founder and CEO Will Scott. "Our goal is to keep growing so that we can continue to create local jobs."
The Inc. Hire Power Award is for US-based, private companies (both for profit and non-profit). Companies must have been founded in 2011 or earlier and have employed at least 10 full-time US-based employees as of December 31, 2012. Companies must complete the Employee Verification Report.
An award ceremony, sponsored by Bank of America Merrill Lynch, will take place November 12, 2013 in San Francisco. Companies featured in Inc.'s November issue represent the top tier winners for the Higher Power Award and a complete list of the winners can be found on http://www.Inc.com.
About Search Influence
Search Influence is a national online marketing company based in New Orleans, specializing in helping small businesses succeed online. The only New Orleans company on the 2011 Inc. 500 list, Search Influence is the largest online marketing company on the Gulf Coast with 55 full-time employees supporting its clients and partners. Search Influence offers search engine optimization (SEO), social media marketing and a full-range of online marketing services, including in-house production services.
About Inc.
Founded in 1979 and acquired in 2005 by Mansueto Ventures, Inc. is the only major brand dedicated exclusively to owners and managers of growing private companies, with the aim to deliver real solutions for today's innovative company builders. Total monthly audience reach for the brand has grown significantly from 2,000,000 in 2010 to over 6,000,000 today. For more information, visit http://www.inc.com.