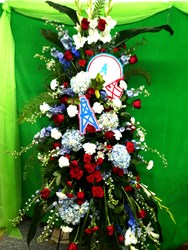 Pasadena, TX (PRWEB) October 29, 2013
Bud Adams: though he was born in Oklahoma, he was a true Texan at heart. He will always be remembered.
Bud Adams was a very bold, intriguing and exciting man. Most notable are his contributions to the great state of Texas, such as the opportunities he brought, the fun he created, the controversial decisions and the strong economic contributions that helped Texas blossom like a garden of roses.
When people pass on, customers often search out the assistance of Flowers & Company in creating a spray of flowers as a show of honor for great memories and beautiful achievements of a lost one. Bud Adams meant so much to so many people, he was a father, a husband, a friend and true American.
Flowers & Co., a premier Houston florist received a special request to create a floral design in honor of the late Bud Adams. Flowers & Co. celebrates his life and times and extends a heartfelt sympathy to the Bud Adams family. May the family and friends of the late Bud Adams find peace and continued happiness.
Enjoy this floral tribute to the great Bud Adams.
Truly yours,
Flowers & Co.