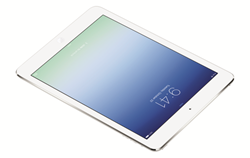 It's an incremental upgrade, but a worthwhile one.
London, Birmingham, Leeds, Glasgow, Sheffield, Bradford, Edinburgh, Liverpool, Manchester (PRWEB UK) 29 October 2013
Now Apple's announcement has finished, we can reveal that the iPad Air will be available online and in Apple stores on 1 November starting with a price of £399 as usual. Any new product release for the iPad causes huge excitement not only for consumers but also for companies which provide repair and support services for iPads. At the iPad Repair Services, they are dedicated to repairing iPads and depend on a steady stream of new devices to grow their business. Felippe Arnold has over 12 years' experience in Apple repair sector and has a passion for iPads. He keeps abreast of the latest developments to ensure that iPad Repair Services is one step ahead of the competition in sourcing original components for the new iPad.
The iPad Air, otherwise known as the iPad 5, is staying ahead of the competition with a 24% reduction in overall volume, with millimetres shaved off everything from the glass, the touch sensor and the retina display to the battery and the unibody. The result is that the iPad Air is slimmer than the iPad 4 measuring 7.5mm from front to back (20% thinner than the old one), and in a strong echo of the iPad mini, it has narrower bezels all around for a much smaller package. Fellipe states that "the touch screen even has a new intelligent display that recognises if your thumb is simply resting on the display while you're holding it or if you're intentionally interacting with the screen."
In terms of what is inside the iPad Air, the new 64-bit A7 CPU has made the trip over from the iPhone 5s along with the M7 motion coprocessor. Fellipe claims that "it should give the iPad Air a massive boost in raw speed." But what about battery life? With all that extra power and a significantly shrunken chassis, there's a danger that battery life will have suffered. Once again, it's a good sign that Apple is still claiming the usual 10 hours.
To bring it into line with the new iPhone 5s, the colours have changed, too, with the smart black and Space Grey now an option, in addition to white and silver. All new iPads now including iMovie, iPhoto, GarageBand, Pages, Numbers and Keynote in the price and better cameras on front and back. Connectivity has improved with up to two times faster Wi-Fi, according to Apple. That's thanks to two antennas instead of one and MIMO technology. 4G LTE support has also been improved for better roaming capabilities. In Fellipe's view, "it's an incremental upgrade, but a worthwhile one."
iPad Repair Services are passionate about iPads and are preparing to support the latest iPads by sourcing original iPad parts as standard. iPad Repair Services leads the way in iPad Screen Repair Warranty using Original iPad Screens and with the option of Express iPad Repair Service. All work at iPad Repair Services is carried out by skilled technicians with many years of experience in the Apple repair sector and they're able to provide expert advice on how to protect your iPad. They specialize in fixing iPad's and this is backed by an unbeatable 1 year warranty. This goes a long way in giving you peace of mind when it comes to the repair of your iPad. To find out more about the services offered by iPad Repair Services visit http://www.ipadrepairservices.co.uk/ or call Freephone 0800 033 7508. iPad Repair Services is part of the Hello Techy family of tech repair businesses.